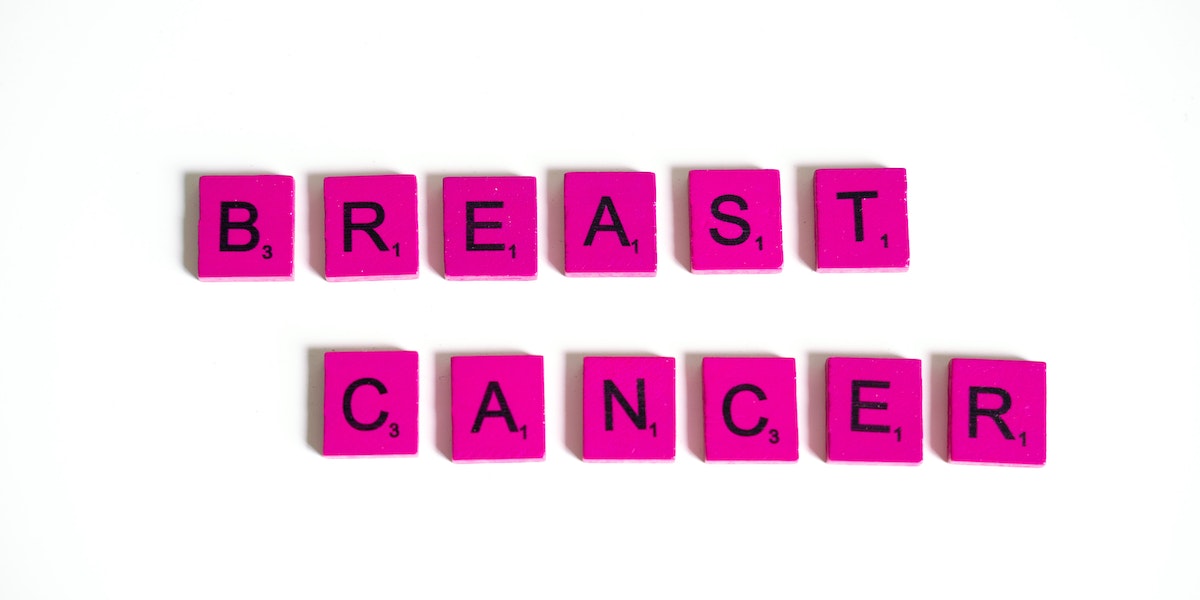 Breast cancer is the most frequently diagnosed cancer in premenopausal women worldwide. It is estimated that almost half of the cancers that occur in women aged 15-49 is breast cancer. An overwhelming majority (75%) of premenopausal breast cancer falls under luminal A (ER+/HER2-) or B (ER+/HER2+) subtypes. Ovarian function suppression, when combined with either tamoxifen or an aromatase inhibitor, is the standard of care for the endocrine management of premenopausal ER+/HER2- breast cancer.
On Monday, October 24th, Atossa Therapeutics, Inc. (Nasdaq: ATOS), a clinical-stage biopharmaceutical company seeking to develop innovative medicines in areas of significant unmet medical need in oncology with a current focus on breast cancer, announced that the U.S. Food and Drug Administration (FDA) has lifted the clinical hold and authorized initiation of its Phase 2 neoadjuvant clinical study of (Z)-endoxifen in premenopausal women with early-stage estrogen receptor positive (ER+) and human epidermal growth factor receptor 2 negative (HER2-) breast cancer. This is the first study of Atossa's proprietary (Z)-endoxifen in the United States.
"Continuing the development of our proprietary (Z)-endoxifen here in the United States has been a key goal which builds on the recent issuance of a U.S. patent for our proprietary (Z)-endoxifen and results from our Phase 2 "window-of-opportunity" study in Australia. We are excited to have engaged Dr. Matthew Goetz, the Erivan K. Haub Family Professor of Cancer Research Honoring Richard F. Emslander, M.D. at Mayo Clinic and Director of the Mayo Clinic Breast Cancer SPORE, as the lead principal investigator for this multi-center study. We look forward to opening the study in the fourth quarter," stated Steven Quay, M.D., Ph.D., Atossa's CEO, Chairman and President.
---
EVANGELINE
Atossa's study, "A Randomized Phase 2 Noninferiority Trial of (Z)-endoxifen and Exemestane + Goserelin as Neoadjuvant Treatment in Premenopausal Women with ER+/HER2- Breast Cancer", or also known as "EVANGELINE," is an open-label, randomized, Phase 2 study designed to investigate (Z)-endoxifen for the neoadjuvant treatment of premenopausal women ages 18 and older with early stage (Grade 1 or 2) ER+/HER2- breast cancer. InClin Inc., a full-service Contract Research Organization, has been contracted to execute this study. This study is a multicenter (approximately 25 sites) study in United States and will enroll about 175 patients and is designed with two cohorts: a PK Run-In Cohort to investigate pharmacokinetics and identify a dose for the Treatment Cohort and a Treatment Cohort to investigate the safety and efficacy of (Z)-endoxifen compared with a prospective control (exemestane + goserelin, two drugs often used in combination to treat this patient population).
The primary objective of the study is to assess whether the endocrine sensitive disease rate at 4 weeks with (Z)-endoxifen is non-inferior to exemestane plus goserelin in premenopausal women with ER+/HER2- breast cancer. Endocrine sensitivity, or the effect of endocrine therapy on the tumor, will be measured by Ki-67%, a biomarker for tumor cell proliferation. Ki-67 is known to be prognostic for 5-year disease-free survival in the neoadjuvant endocrine treatment of ER+/HER2- breast cancer. The neoadjuvant setting of this study will allow Atossa to investigate several translational endpoints using paired tumor samples. Patients will be enrolled with the intent of surgical treatment in the involved breast(s) after completing neoadjuvant study treatment. Patients will receive neoadjuvant study treatment for up to six months. Surgery will be performed within seven days of the last dose of study treatment.
---
(Z)-Endoxifen Update
(Z)-endoxifen is the most active metabolite of the FDA approved Selective Estrogen Receptor Modulator (SERM), tamoxifen. Studies by others have demonstrated that the anti-estrogenic effects of tamoxifen are driven in a concentration-dependent manner by (Z)-endoxifen. In addition to its anti-estrogen effects, (Z)-endoxifen at higher concentrations has been shown to target PKCβ1, a known oncogenic protein. Atossa has developed a proprietary oral formulation of (Z)-endoxifen that does not require liver metabolism to achieve therapeutic concentrations and is encapsulated to bypass the stomach as acidic conditions may render (Z)-endoxifen inactive. Atossa's (Z)-endoxifen has been shown to be well tolerated in Phase 1 studies and in a small Phase 2 study of women with breast cancer. We currently are studying our (Z)-endoxifen in healthy women with measurable breast density and premenopausal women with ER+/HER2- breast cancer. Atossa has been issued U.S. Patent No. 11,261,151, titled "Methods for Making and Using Endoxifen" which is directed to compositions of storage-stable (Z)-endoxifen and methods of treating hormone-dependent breast disorders using the storage-stable (Z)-endoxifen. This patent is not expected to expire until 2038. Atossa reported that it has continued to make steady progress with its ongoing study of (Z)-endoxifen in premenopausal women with measurable breast density in Stockholm, Sweden. It has now enrolled approximately 40% of the subjects in that study, which puts Atossa on track to completing enrollment of all 240 participants in the second half of 2023.
---
ATOSSA ADDS FORMER JNJ DIRECTOR
On Tuesday, October 25, Atossa announced that it has retained Richard Graydon, M.D., Ph.D. as interim chief medical officer. Dr. Graydon will devote all of his professional time to the Atossa clinical programs. Prior to joining Atossa, Dr. Graydon served as Senior Director of Clinical Development at Johnson and Johnson (JNJ) where he was responsible for leading compound development and clinical trial programs for Janssen Pharmaceuticals. At Janssen, he oversaw the early to late-stage development and the 2022 approval of BCMA-directed CAR T-Cell therapy (cilta-cel) for Multiple Myeloma, as well as daratumumab, imbruvica, siltuximab and other compounds for solid tumor and hematological malignancies. Previously, he held the role of Director of Clinical Development at Daiichi Sankyo, Inc., where he led the early and late-stage development of the small molecule targeted therapy quizartinib for FLT3-positive Acute Myeloid Leukemia. Additionally, he led the early-stage development of the MDM2 inhibitor milademetan in hematological malignancies and liposarcomas. Dr. Graydon spent time in clinical practice following completion of his specialty training in hematology and oncology at Harvard Massachusetts General Hospital. He earned his M.D. and Ph.D. at Stanford University, and undergraduate degree in Chemical Engineering at Cornell University. Dr. Graydon is the author of The Genetic Risks of Cancer: The Effects of DNA, Genomics and Inheritance on Aging and Survival.
"We are privileged to welcome Richard to Atossa, where his deep experience in CAR T cell therapy fits well with our current strategic direction as we explore our opportunities in cell therapy," said Steven Quay, M.D., Ph.D., Atossa's Chairman, CEO and President. "We look forward to collaborating with Richard to assess our strongest options and develop a pathway that provides our shareholders with strong results and enhanced shareholder value."
On July 7th, Atossa filed an 8k at sec.gov that stated, that on July 1, 2022, Atossa Therapeutics, Inc. ("Atossa") entered into a letter agreement (the "Letter Agreement") with a venture-capital backed, private company based in the United States that is in the pre-clinical stage of developing novel Chimeric Antigen Receptor (CAR) T-cell therapies based on technology licensed from a leading U.S. adult and pediatric cancer treatment and research institution (the "CAR-T Company"). The Letter Agreement requires that up until November 1, 2022 the CAR-T Company will (i) negotiate exclusively with Atossa for Atossa to acquire the CAR-T Company, and (ii) address certain matters related to personnel, operations and intellectual property. Atossa has paid $3 million for the exclusive right to negotiate with the CAR-T Company. If a definitive agreement is not reached for Atossa to acquire the CAR-T Company and if a specified material adverse event has not occurred, then Atossa will pay an additional $2 million for a 19.99% preferred stock equity interest in the CAR-T Company. Atossa is under no obligation to complete the acquisition of the CAR-T Company and no assurance can be given that an acquisition will be completed on acceptable terms or at all.
---
Atossa has multiple programs underway to treat breast cancer, and other breast conditions: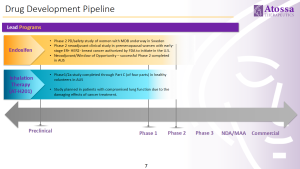 To learn more please visit the Atossa Therapeutics website at https://atossatherapeutics.com/product-pipeline/.
---
Breast Cancer Awareness Month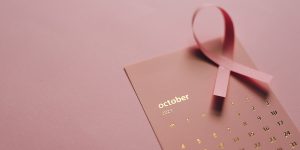 Breast Cancer Awareness Month, held in October every year, was created in 1985 to promote screening and prevention of the disease, which affects one in eight women in the United States every year and 2.3 million women worldwide. Known best for its pink theme color, the month features a number of campaigns and programs — conducted by groups ranging from breast cancer advocacy organizations to local community organizations to major retailers — aimed at:
supporting people diagnosed with breast cancer, including metastatic breast cancer
educating people about breast cancer risk factors
stressing the importance of regular screening, starting at age 40 or an age that's appropriate for your personal breast cancer risk
fundraising for breast cancer research
This information is provided by Breastcancer.org.
Donate to support free resources and programming for people affected by breast cancer: https://give.breastcancer.org/give/294499/#!/donation/checkout 
TRIBE PUBLIC ATOSSA EVENT VIDEO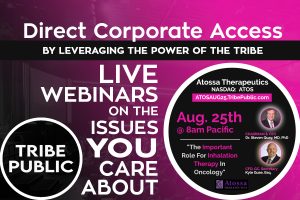 On Aug. 25th, Atossa's CEO, Dr. Steven Quay, M.D., Ph.D., and Kyle Guse, GC & CFO presented at Tribe Public's Webinar Presentation and Q&A Event. During this complimentary event, Atossa management spoke of new opportunities for its inhalation therapy, AT-H201, to potentially treat lung injury caused by cancer treatment and were available for a Q&A session focused on Atossa's research programs and future development. To watch the event video titled
"The Important Role For Inhalation Therapy In Oncology"
please visit the Tribe Public YouTube Channel. 
---
Scientific Advisory Board (SAB)
On Aug. 18, Atossa announced the appointment of Dr. Paul Wabnitz to its Scientific Advisory Board (SAB). The Company has also re-appointed Drs. Mak Jawadekar, Per Hall, and Carl Novina to the SAB.
Dr. Wabnitz has extensive experience in clinical development with a unique combination of clinical medicine, pharmacology, toxicology, and industry drug development experience. He has acted as an investigator and Medical Monitor on over 50 first in human Phase I/II clinical trials over the last two years, including several Phase I/II first in human oncology studies, as well as previously being the Executive Medical Director of a leading Australian Phase I clinical unit. His scientific background includes a Ph.D. in Organic Chemistry, a Post Doc at Parke-Davis (Ann Arbor, MI), 6.5 years of drug development industry experience (Pfizer/Esperion), an M.B.A. from the Stephen Ross School of Business (University of Ann Arbor, MI), and a Drug Development certificate in Regulatory Affairs from Temple University (Philadelphia, PA). His clinical background includes a Doctor of Medicine (M.D.), and he is a qualified Specialist Physician and Clinical Pharmacologist (Fellow of the Royal Australasian College of Physician, Australia).
---
WHAT DOES WALL STREET THINK?
Jason McCarthy Ph.D., a biotech analyst at the Maxim Group, put out a research note on July 28th reconfirming his BUY rating and a $4 target price on Atossa. Stay tuned otherwise. 
---