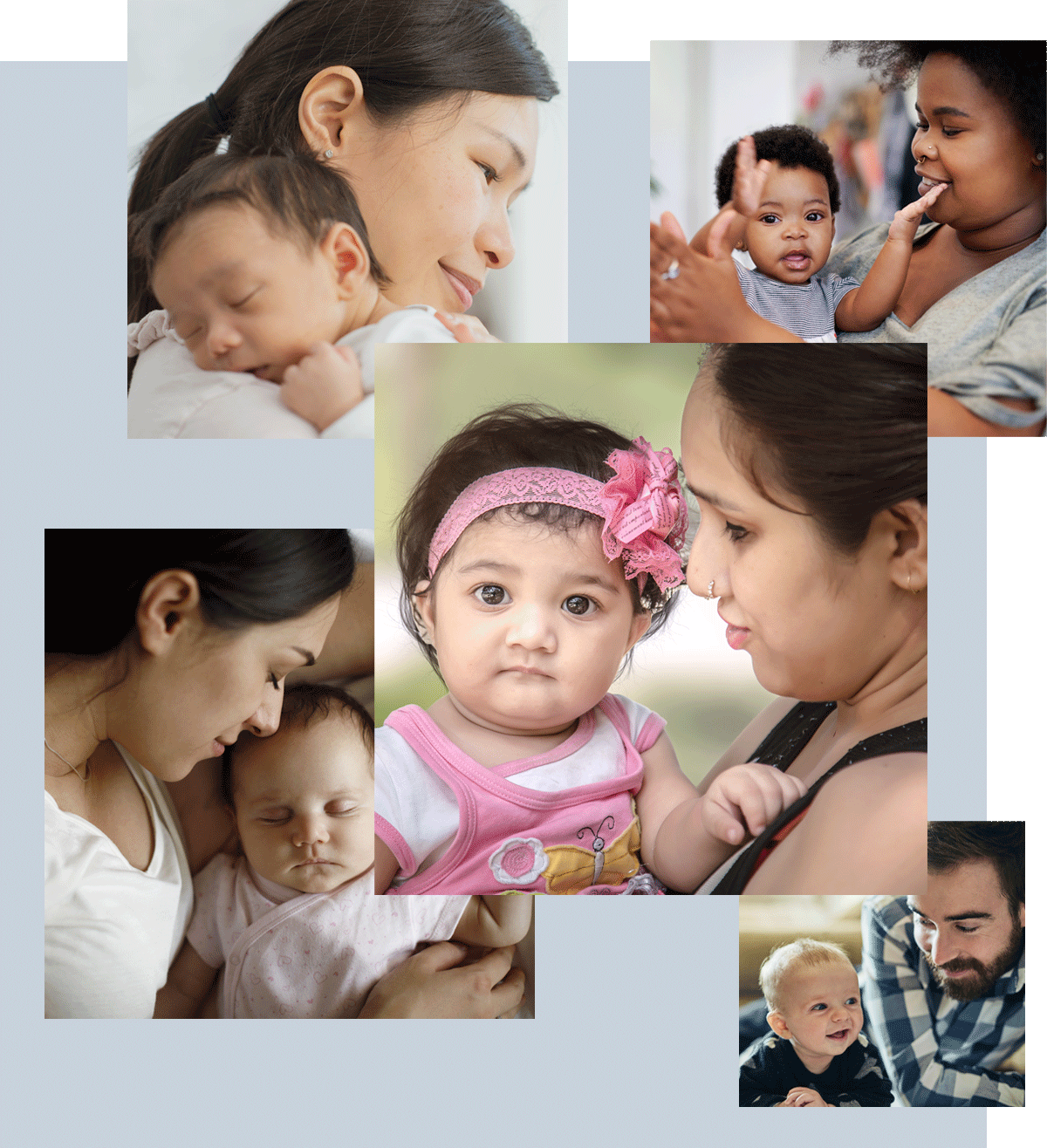 Today, the global fertility market is a multi-billion industry, yet remains severely underserved, with estimates suggesting more than 90% of couples in need of infertility treatment going without care. INVO Bioscience (NASDAQ: INVO), a commercial-stage fertility company focused on expanding access to advanced treatment worldwide with its INVOcell® medical device and the IVC procedure it enables, believes that its INVOcell and the IVC procedure are well suited to address existing industry capacity challenges and provide an affordable and effective fertility option for patients in need. Intravaginal culture (IVC) is the process where a woman's body acts as a natural incubator. The first and only FDA-cleared, CE -marked medical device for IVC, INVOcell® (pictured below) holds the eggs and sperm within the woman's body during fertilization and early embryo development. Through its in vivo approach, INVOcell offers patients a more natural and intimate experience with comparable results at a lower cost.
---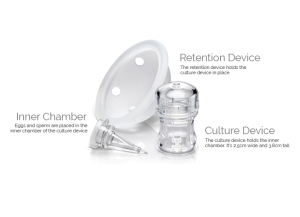 ---
On February 1, INVO Bioscience, Inc. (NASDAQ: INVO) provided a commercialization update stating that effective February 1, 2022, INVO regained full U.S. commercialization rights to its INVOcell technology, enabling the Company to sell directly into existing IVF clinics, to expand the number of INVO Centers, clinics that focus on patients in need of advanced fertility care utilizing the efficient, effective, and affordable INVOcell solution, free of any limitations, and to pursue its market expansion strategy focused on increasing access to care and democratizing fertility care for underserved patients. INVO Centers are believed to enjoy key advantages in the marketplace over current care options including: (a) lower startup costs – centers can be set up quickly and inexpensively within a relatively small footprint in urban, suburban, and rural areas,  (b) higher capacity – centers are capable of performing far more cycles / embryologist, & (c) patent-protected device can be offered at an attractive cost to patients. 
"We are now able to synchronize and take an expanded, more comprehensive and direct approach toward our U.S. commercialization efforts. In addition to supporting and expanding upon the approximate 100 U.S. IVF clinics that have trained on the INVOcell device and the IVC treatment process for their operation, we expect to advance our INVO Center efforts as a critical part of the U.S. strategy moving forward. With our initial three centers now fully operational and focused on delivering INVOcell and the IVC procedure, we are excited to continue rolling out additional centers. As previously noted, we have initially identified over 20 cities in the U.S. as attractive markets. We believe our multi-channel commercial strategy of supporting, servicing, and expanding across the existing IVF clinic network as well as building new, dedicated INVO Centers will help drive increased market awareness of our revolutionary technology, and provide a viable option to help served the large, underserved patient population," stated Mike Campbell, COO and V.P. Business Development of INVO Bioscience (NASDAQ: INVO). 
---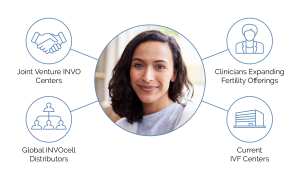 INVO Biosciences' Stated Key Commercial Initiatives for 2022:
Increase distribution activities (selling the INVOcell device to existing clinics). This includes selling direct here in the U.S. market and focusing on the existing, previously signed international distributors. We have added a dedicated resource for the U.S. effort along with important support services such as training and education.
Drive strong patient volumes within the existing INVO Centers in

North America

. With key personnel and supportive agencies in place and active, we are expanding our marketing and public relations efforts to complement and accelerate the progress and market awareness at our joint-venture operating INVO Centers in

Birmingham, AL

,

Atlanta, GA

, & Monterey,

Mexico

.
Build additional INVO Centers. We have identified specific markets and details will be forthcoming. 
Develop our lab services model targeted to support the OB/GYN market. As previously highlighted, Dr. Barbara Levy, M.D., FACOG, FACS, a highly influential clinical executive, joined our team as Senior VP Global Clinical Integration to help guide this effort in collaboration with our commercial and medical team.
INVO expects to provide additional updates on these key areas in the near future.
---
"The underserved market is a key opportunity for INVOcell and our focus. Democratizing fertility has been and will remain a key part of our Company's mission. We are pleased with the trends and progress at our newly operational INVO Centers and expect 2022 to continue to be transformative as we look to further unlock the value of our breakthrough technology. A tremendous foundation has been built over the years in many core areas supportive of expanded commercialization and we look forward to leveraging and capitalizing on this groundwork moving forward," stated Steve Shum, CEO of INVO Bioscience (NASDAQ: INVO).
"Democratizing Infertility – A Severely Underserved Global Market"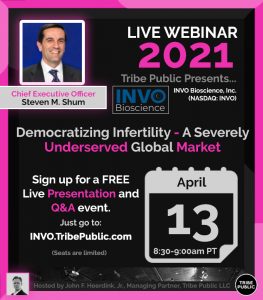 On April 13 2021,  INVO Bioscience's CEO Steve Shum delivered his presentation is titled "Democratizing Infertility – A Severely Underserved Global Market." You may view the video of the event that has been viewed over 22,000 times now at this link: https://youtu.be/w4yQIc7eO5k.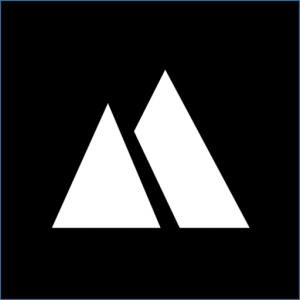 VISTA'S VIEW
Over the past 40+ years, since the first IVF baby was born, the fertility market has grown into a $20+ billion global industry. Here in the U.S., according to the most recent 2019 CDC data, approximately 330,000 IVF cycles were performed across 448 clinics, which implies a roughly $5 billion domestic marketplace. However, this represents only a small portion of the actual market as approximately 90% of infertile couples go untreated each year. There are some real challenges with bridging the gap of treating the volume of patients that need care. Patient affordability and lack of insurance coverage is often the most discussed dynamic, but that is only one part of the challenge.
We believe that there is an equal or even greater challenge related to capacity limitations in the industry given the relatively small number of IVF clinics and limited human resources available which are typically only available in major metropolitan areas. We believe that INVO Bioscience's INVOcell, which does not require the process of building out and maintaining expensive labs, can bring much needed capacity additions and access to the market beyond the capacities of IVF and at a more affordable price and to not lonely the metropolitan areas, but also the rural areas as well located throughout the world.
"The global fertility market size is predicted to hit around US$47.9 billion by 2030 with a CAGR of 4.7%", according to a recent study by Precedence Research.
INVO'S STOCK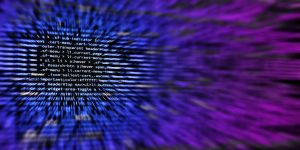 INVO Bioscience's Nasdaq listed stock trades under the ticker INVO & closed trading on Tuesday trading at $3.25/share.  The 52- week trading range for INVO is $2.54 – $12.30. Currently 11.73M shares are issued and outstanding according to Yahoo Finance, so the company is considered a low float stock by most standards. 
---
INVO's RECENT HEADLINES
On January 19, 2022, Maxim Group's sell side analyst Jason McCarthy, Ph.D. initiated coverage with a Buy Rating Report titled "INVO Bioscience: Transforming Assisted Reproductive Technology with Intravaginal Culture" with a $7 Price Target.
On Dec, 16, INVO Bioscience, Inc. announced that it has entered into an expanded agreement with Ovoclinic, a group of clinics specialized in assisted reproductive treatments with four locations across Spain (Madrid, Marbella, Málaga, Ceuta) and collaborating centers around Europe, to accelerate adoption of INVOcell within their markets. The agreement includes the expanded adoption of INVOcell within Ovoclinic locations as well as establishing an INVO Center of Excellence for future training for the European Market. Cristina Gonzalez, embryologist and Quality Manager of Ovoclinic laboratories stated, "After several successful trials implementing the exciting INVOcell fertility treatment, Ovoclinic aims to provide its patients with this effective alternative to the processes used so far in Spain in the field of reproductive medicine. We consider INVOcell to be an effective method of natural reproduction that involves the future mother at the very first moment of the process. We are confident that this innovative treatment will help many patients to choose this new alternative solution to achieve their dream of forming a family by actively participating in the reproductive process." According to the World Bank, Spain, with total population of approximately 47 million people, has one of the lowest fertility rates in Europe, affecting approximately 15% of the population, or one in seven couples of reproductive ages. According to reports, in 2010, there were approximately one million couples requesting assisted reproductive treatment, however only 22% received one or more assisted reproductive treatment cycles. The average waiting time for an IUI or IVF cycle in a public health facility was 339 days. Ovoclinic reports that they maintain the best technical and human resources to deal with all kinds of infertility problems along with the simplest and most natural treatments to the most complex and advanced techniques pioneered in Spain. Ovoclinic also works in partnership with Ovobank, the first European Donor Egg Bank in Europe.
On Dec. 1, INVO Bioscience announced the Company has received approval by Medical Devices Control Division for FDA Thailand to import and commercialize INVOcell in Thailand. In April 2021, INVO Bioscience entered an exclusive distribution agreement with IVF Envimed Company Ltd. to distribute the INVOcell system within Thailand. Established in 1993, IVF Envimed Company Ltd. has established a wide network of clinics and hospitals across Thailand primarily focused on fertility solutions. IVF Envimed is a member of the 'Thai Society of Reproductive Medicine' which organizes congresses and educational programs where IVF Envimed participates. In November 2021, INVO Bioscience started to train physicians and embryologists from both private and government hospitals. In early 2022, INVO Bioscience and IVF Envimed will organize several 'in person' trainings in Bangkok with key fertility experts to supplement currently ongoing online trainings. INVO Bioscience is also planning to conduct a locally-based evaluation study to have localized data, a key element for both physicians and patients. "Following months of efforts and interactions with the governmental authorities in Thailand, we are thrilled to have received approval by FDA Thailand to commence commercialization of the INVOcell solution within Thailand," commented, Steve Shum, CEO of INVO Bioscience. "Over the past number of months, we have been working closely with our partners at IVF Envimed to educate key opinion leaders within the country, including the recent training of several physicians and embryologists that should allow us to begin scaling up our commercialization efforts within the country. Further, we have identified physicians to help us with localized data collection on initial patients to assist in our longer term marketing efforts within the country. We look forward to working with Envimed and supporting their efforts to deliver the INVOcell solution in Thailand help address the underserved patient market in need of advanced reproductive treatment."
On Nov 16, Colliers Secuirites issued an update report titled "Dedicated INVOcell Clinics To Begin Meaningful Sales in CY22. Decision On 5-Day label Expansion Expected in 1Q22." The report carried a BUY rating on INVO and a Price Target of $6.
On Nov. 15, INVO announced their financial and operating results for the third quarter ended September 30, 2021, and provided a business update. Steve Shum CEO of INVO stated , "We continue to execute against our core mission of improving access to advanced fertility services for the many patients around the world through the use of the INVOcell solution. During the quarter, we achieved a significant milestone with the opening of our very first INVO Center, based in Birmingham, where we have commenced initial cycles. Further, we opened clinics in Atlanta, Georgia and Monterrey, Mexico to expand the INVO Center business model and we are working to open the San Francisco Bay Area clinic as soon as possible. We completed the acquisition of a Canadian-based entity that will be used to distribute the INVOcell in Canada and to develop INVO Centers in the region. With our INVO Center strategy now successfully underway, we are optimistic on the prospects for further expansion using this unique and innovative model. As part of a detailed review, we have initially identified more than 20 cities here in the U.S. that we believe have excellent characteristics in terms of demographics and level of current fertility care that would be ideal locations for an INVO Center." READ the balance of the story here. 
On Nov. 8 after the market closed, INVO announced that it will regain full U.S. commercialization rights for its patented INVOcell® device due to Ferring International Center S.A.'s termination for convenience of that certain Distribution Agreement dated November 12, 2018 with INVO, which termination will officially take effect on January 31, 2022. Over the past three years, INVO has been executing on a multi-faceted commercialization strategy which includes partnering to open dedicated "INVO Centers" focused on INVOcell and the IVC procedure, and establishing agreements with distributors in key markets. The terms of the U.S. Distribution Agreement had limited the number of INVO Centers that we were allowed to operate. INVO can now further support U.S. fertility clinicians directly as the exclusive provider of INVOcell® in pursuit of our mission to bring advanced fertility care to the millions of people that are without access to treatment.
On October 20, INVO Bioscience, Inc. announced that four exciting poster abstracts were presented discussing INVOcell at the 77th Scientific Congress & Expo of the American Society for Reproductive Medicine (ASRM) being held this week in Baltimore, Maryland. "It's extremely rewarding to see our technology highlighted at this year's ASRM. Four independent abstracts were selected for presentation at the fertility industry's most prominent annual meeting. On behalf of the entire INVO team, we sincerely appreciate the work of the many clinicians that now support INVOcell as a solution and thank those that contributed their independent work in advancing the understanding of the unique capabilities of INVOcell. These types of events and studies emphasize the opportunity we have to democratize advanced fertility services through the unique attributes of the INVOcell solution and bring care to the large, underserved patient population around the world,"stated Steve Shum, CEO of INVO Bioscience. LEARN MORE! 
On Oct. 14, INVO announced that November 1, 2021 will be the grand opening date for the Company's INVO Center joint venture, based in Monterrey, Mexico. The new center, named "Positib Fertility, an INVO Center," will focus on patients in need of advanced fertility care utilizing the efficient, effective, and affordable INVOcell solution.
On September 9th, INVO Bioscience announced that it has completed the acquisition of a Canadian-based entity that was originally formed to offer INVOcell in Canada. The entity had previously completed a number of important procedures and documentation necessary to establish INVOcell within clinical operations in Canada. INVO Bioscience anticipates leveraging this entity to advance the distribution of INVOcell, and take advantage of the existing product registration which approved the device for sale based on 5-day incubation in the Canadian market. In addition, the Company is initiating the development of joint ventures to establish INVO Centers within the Canadian marketplace, similar to U.S. and Mexico markets, to further drive accelerated adoption of the INVOcell solution while also increasing much needed capacity and patient access within the fertility industry. Steve Shum, CEO of INVO Bioscience, commented, "We believe Canada offers an excellent opportunity to further expand our distribution efforts of INVOcell while also advancing our joint-venture based INVO Center model. With roughly 16% (or 1 in 6) couples in Canada experiencing infertility, a number that has doubled since the 1980s, and with a popultion of 37.74 million, Canada represents a sizable market opportunity. Canada also faces similar issues that hamper other parts of the world, including a large underserved population, access/capacity constraints and affordability challenges. We appreciate the key individuals in Canada that originally created this entity to help promote and bring our INVOcell technology into the marketplace and look forward to bringing greater resources to advance this effort. We anticipate this acquisition will serve as a platform to help accelerate building INVOcell's presence in Canada."
On September 7th,  INVO Bioscience announced that it has officially opened the Company's 2nd INVO Center in the United States, based in Atlanta, Georgia after recently opening their first in Birmingham, AL called "Innovative Fertility Specialists, An INVO Center" on August 9th. INVO Centers are further scheduled this year to open in Monterrey, Mexico & the San Francisco Bay Area. This new joint-venture, named "Bloom Fertility, an INVO Center," will focus on patients in need of advanced fertility care utilizing the efficient, effective, and affordable INVOcell solution. READ THE COMPLETE STORY. 
On August 16th, INVO announced their financial and operating results for the second quarter ended June 30, 2021 and provided a business update. Steve Shum , CEO of INVO stated. "Our team made excellent progress during the second quarter of 2021 toward our key objectives, headlined by last week's official opening of our first INVO Center practice in Birmingham, AlabamaWe feel INVO is now well positioned for success based on the following core foundational elements developed over the past 2 years. We believe there is a substantial underserved patient population with infertility challenges and a real need to expand access to treatment. In our opinion, this is a multi-billion-dollar market expansion opportunity, and INVOcell is well positioned to address the unmet medical need."
On Aug.2, INVO announced the Company's first Joint Venture INVO Center practice in the United States, based in Birmingham, Alabama, will officially open on August 9, 2021. Dr. Hammond commented, "With the opening of the country's first INVOcell medical practice, we are advancing a core mission towards improving access to advanced fertility services for the many patients who would otherwise never have the opportunity. To date, we have already received numerous advanced inquiries via word of mouth and have dozens of patients scheduled for initial patient consultations who are eager to proceed with treatment. As we officially open the center next week, we expect to accelerate our marketing programs with the help of the INVO marketing team to enhance overall patient awareness around Innovative Fertility Specialists, An INVO Center."
On July 14th, INVO announced the appointment of world renowned women's health expert, Dr. Barbara Levy, M.D., FACOG, FACS as the Company's Senior VP, Global Clinical Integration to accelerate affordable infertility treatment INVOcell's Global OB/GYN Clinical Integration Strategy. Dr. Levy is considered one of the most influential clinical executives in the world, recently serving as Vice President, Health Policy at the American College of Obstetricians and Gynecologists (ACOG) and chair of the American Medical Association/Specialty Society Relative Value Scale Update Committee. She joins INVO Bioscience to help further develop and accelerate the Company's global OB/GYN channel strategy. Steve Shum, CEO of INVO Bioscience, said, "We are excited to have Dr. Levy join the INVO team to support our mission to bring care to the vast underserved patient population around the world experiencing infertility challenges. She has a clear understanding of the role that OB/GYNs can play in helping to democratize fertility care on a global basis by providing accessibility to affordable and effective treatments, the key hallmarks of the INVOcell technology. We look forward to leveraging her experience, relationships, and influence to accelerate our OB/GYN clinical implementation strategy in the years to come."
On June 30th, VP Watchlist company, INVO Bioscience, Inc. (NASDAQ: INVO) expanded their North American footprint as they announced on June 30th that they had signed a joint venture agreement in partnership with reproductive specialist Dr. Sue Ellen Carpenter, M.D. through its wholly-owned subsidiary, INVO Centers, LLC, to open an INVO clinic in Atlanta. The clinic, Bloom Fertility, is scheduled to open in the second half of 2021. INVO Bioscience will provide funding for start-up and operating costs and own 40% of the Atlanta Joint Venture. Dr. Sue Ellen Carpenter, MD, is Board Certified in Obstetrics and Gynecology. With over 30 years of experience in reproductive medicine, Dr. Carpenter's specialties include in vitro fertilization, treating congenital anomalies associated with infertility, as well as endometriosis and polycystic ovarian syndrome. Noted for excellence in her field and a "Top Doctor, Atlanta 2019 and 2020″ she delivers lectures across the country and has published more than a dozen papers on reproduction and fertility. She is an active member of the American Society of Reproductive Medicine (ASRM) as well as the Georgia OB GYN Society. Note that INVO Bioscience has also signed clinic partnerships in Birmingham, Alabama and the San Francisco Bay area earlier this year, along with its Mexico partnership in late 2020, which is scheduled to open later this year. These clinics, through the utilization of the INVOcell technology, in addition to the multiple clinic and distribution partnerships throughout the world are bringing advanced fertility care and much needed expanded access to the millions of underserved people.
On June 15th, INVO Bioscience, Inc. (NASDAQ: INVO), announced further foundational progress as they appointed of Andrea Goren as the Company's Chief Financial Officer. In a career approaching 27 years, Mr. Goren has extensive experience in numerous financial functions, including service as a public company CFO, company director, capital raising activities as well as mergers and acquisition experience. Mr. Goren has served as managing director and CFO of Phoenix Group, a New York City-based private equity firm specializing in micro-cap and nano-cap public companies. He served as vice president of Shamrock Group, the Roy Disney family private investment firm in London; and was a director at New York City-based Madison Capital Group, a corporate advisory firm focused on U.S. / European Union cross border transactions. Mr. Goren holds a Bachelor of Arts degree from Connecticut College in New London, Connecticut, and an MBA from the Columbia Business School in New York City.
On May 11, a 13G was filed that confirms that David Sable's (a former #IVF doc turned portfolio manager) Special Situations Fund of AWM Investment Company increased their ownership to 11.1% or 1,154,153 share ownership of INVO Bioscience (INVO). They held 625k/6.5% as of the 13G filing 2-12-2021. If you are not familiar with them, I believe if you do a relatively small amount sleuthing you will find out that they are one of the most successful multi-billion funds over the last 20-years, especially in finding small undiscovered microchips. I believe that they led the round of $13M at $3.20 a share in November 12, 2020 that pushed INVO uplist to the NASDAQ. Here's the 13G filing.  

---
FERTILITY INDUSTRY & M&A NEWS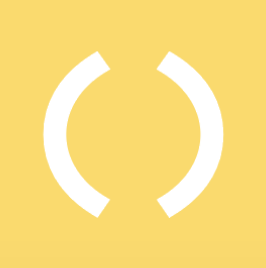 On Feb. 1, Kindbody, a leading fertility and family-building care company, announced that it has signed a merger agreement to acquire Vios Fertility Institute, a high-growth, innovative network of fertility clinics, to increase access to patient-centric, technology-driven care across the country. The transaction doubles Kindbody's national footprint to 26 clinics with a $1.15B valuation and with plans to expand to 40 retail locations by year's end. Together, the companies performed nearly 10,000 fertility treatments in 2021 and served thousands of patients via their virtual and in-person services and is projected to double that in 2022. Kindbody and Vios are both women-led companies driven by a mission and vision to revolutionize fertility care. Kindbody has transformed the fertility landscape through its design-forward clinics, state-of-the-art technology, and comprehensive virtual, at-home, and in-person care. Under the leadership of global fertility leader, Dr. Angeline Beltsos, Vios has developed deep experience and proven success in clinical operations, innovation, and scale. Vios clinics, located in Illinois, Michigan, Missouri, Oregon, Washington, and Wisconsin, will rebrand to Kindbody and integrate Kindbody's proprietary patient portal, EMR (electronic medical record), and telehealth platform into the expanded operations to ensure a seamless continuum of care. 
Last year was a record year for consolidation in the digital healthcare sector with M&A activity up 44% from 2020, according to CB Insights State of Digital Health 2021 report. Investments in the US digital health market also skyrocketed in 2021 reaching a record $37.9B. The number of global digital health "unicorns," or startups that reach a valuation of $1B, reached a record of 85, up 49% over the previous year, according to the report. Kindbody believes that it is uniquely positioned for success in the digital healthcare sector because it provides both care navigation and care delivery with more than 64 providers across the country. The announcement follows Kindbody's expansion into at-home testing earlier this month, beginning with fertility hormone test kits for women and men.