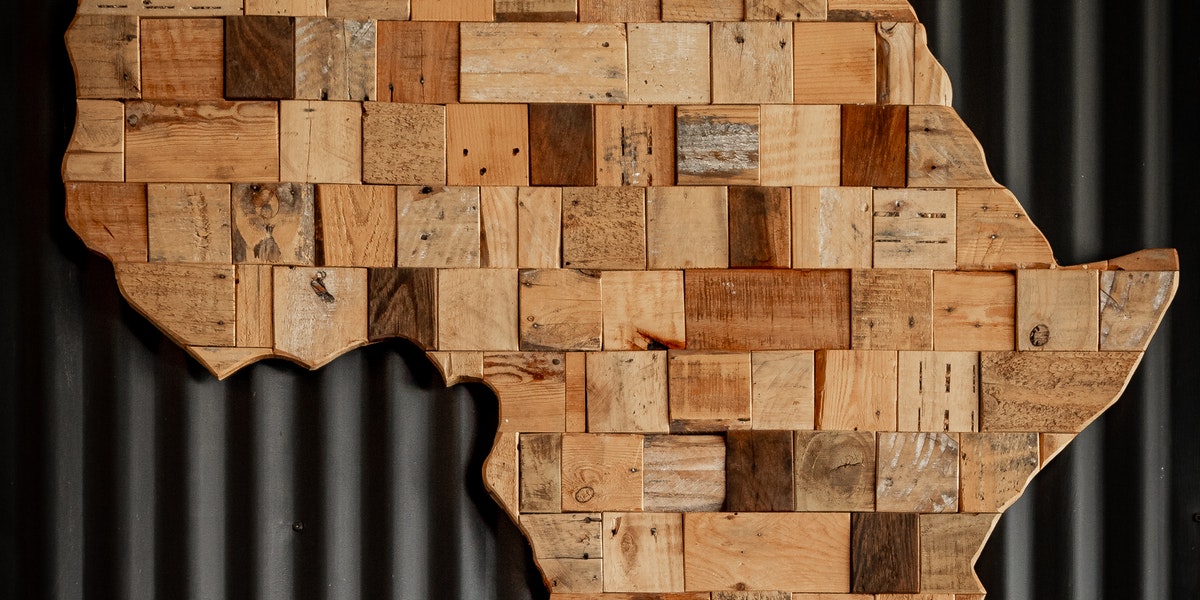 INVO Bioscience, Inc. (NASDAQ: INVO) is a medical device company focused on creating simplified, lower-cost treatments for patients diagnosed with infertility. Their solution, the INVO® Procedure, is a revolutionary in vivo method of vaginal incubation that offers patients a more natural and intimate experience. Their lead product, the INVOcell®, is a patented medical device used in infertility treatment and is considered an Assisted Reproductive Technology (ART). The INVOcell® is the first Intravaginal Culture (IVC) system in the world used for the natural in vivo incubation of eggs and sperm during fertilization and early embryo development, as an alternative to traditional In Vitro Fertilization (IVF) and Intrauterine Insemination (IUI). Their mission is to increase access to care and expand fertility treatment across the globe with a goal to lower the cost of care and increase the availability of care.
On Friday, September 3rd, INVO Bioscience, Inc. (NASDAQ: INVO, $3.86), announced that Dr. Inger Britt Carlsson, Vice President of Global Medical Affairs, will be presenting at the Association for Fertility and Reproductive Health (AFRH) virtual conference this year on September 23rd and 24th on the topic of INVOcell® as an efficient, patient-centric and affordable fertility solution for the continent of Africa. The INVOcell procedure is the first in-vivo culture (IVC) system in the world used for the incubation of eggs and sperm during fertilization and early embryo development within the body, as an alternative to conventional In Vitro Fertilization (IVF) and Intrauterine Insemination (IUI). Through its in vivo approach, INVOcell offers patients a more natural and intimate experience.
"Across the African continent, infertility is on the rise, with an average infertility rate of 10.1% and as high as 32% in some countries. Infertility comes with devastating social, cultural, emotional and economic consequences for young couples in Africa. Unfortunately, accessing basic assisted reproductive technology treatments can be challenging or impossible for couples who have issues conceiving. The INVOcell solution is a low-cost and effective fertility treatment option that can be the answer to this burgeoning dilemma," stated Dr. Inger Britt Carlsson, Vice President of Global Medical Affairs of INVO Bioscience (INVO).
Prior to the start of the pandemic, INVO Bioscience entered into a distribution agreement in Nigeria, the most populous (~212 million) country in Africa, with G-Systems. They have recently completed the registration process in Nigeria as well as hosted training events with our distributor. They believe the African continent represents an attractive opportunity for INVOcell and look forward to accelerating our efforts to democratize fertility across the African continent.
Over the past 40+ years, since the first IVF baby was born, the fertility market has grown into a $20+ billion global industry. Here in the U.S., according to the most recent 2019 CDC data, approximately 330,000 IVF cycles were performed across 448 clinics, which implies a roughly $5 billion domestic marketplace. However, this represents only a small portion of the actual market as approximately 90% of infertile couples go untreated each year. There are some real challenges with bridging the gap of treating the volume of patients that need care. Patient affordability and lack of insurance coverage is often the most discussed dynamic, but that is only one part of the challenge. We believe that there is an equal or even greater challenge related to capacity limitations in the industry given the relatively small number of IVF clinics and limited human resources available which are typically only available in major metropolitan areas. We believe that INVO Biosceince's INVOcell, without the need of expensive lab build outs, can bring much needed capacity additions and access to the market beyond the major metropolitan areas at a more affordable price.
MORE PROGRESS FROM INVO BIOSCIENCE
"Our team made excellent progress during the second quarter of 2021 toward our key objectives, headlined by last week's official opening of our first INVO Center practice in Birmingham, Alabama. We feel INVO is now well positioned for success based on the following core foundational elements developed over the past 2 years:
Our Team – An experienced internal operating team with key positions filled, a strong and diverse board of directors, a scientific advisory board composed of well-known and respected fertility industry experts, and key outside KOL's/consultants.

Our Partners – A growing list of quality distributors around the world, experienced and motivated JV Partners, and a committed shareholder base.

Our Technology – We have gained valuable real market usage data (and hence further validation) along with a clear understanding of how our technology "fits" in the industry and the key challenges it helps solve.
"We believe there is a substantial underserved patient population with infertility challenges and a real need to expand access to treatment. In our opinion, this is a multi-billion-dollar market expansion opportunity, and INVOcell is well positioned to address the unmet medical need. The new Birmingham practice, our very first INVO Center, is a major milestone and one of the most significant in the Company's history to date. The center is already off to an encouraging start as we have surpassed our internal expectations for patient appointments and expected treatment cycles planned for the first month. The vision to drive accelerated adoption of the INVOcell solution while also increasing much needed capacity and patient access within the fertility industry is coming to reality with this first INVO Center, thanks to the expertise and commitment of our internal team and partners. Our goal to democratize fertility treatment by bringing care to the vast underserved patient population around the world experiencing infertility challenges is advancing. We believe a key to this effort will also involve leveraging the OB/GYN community. In July, we appointed Dr. Barbara Levy as our SVP, global clinical integration. Dr. Levy is considered one of the most influential fertility and reproductive health clinical executives in the world and brings a life-long passion to improving women's health recognizing that a critical component to that is treatment for infertility. I am excited to have Dr. Levy help lead this OB/GYN strategy moving forward," stated Steve Shum, CEO Of INVO Bioscience (NASDAQ: INVO). 
INVO Reported The Following Recent Operational Highlights
Officially opened the first U.S.-based INVO Center, located in Birmingham, Alabama in partnership with reproductive specialists Dr. Nicholas Cataldo, MD, MPH, Dr. Karen R. Hammond, DNP, CRNP, and Lisa Ray, MS, ELD. The new Birmingham practice, named "Innovative Fertility Specialists, an INVO Center" will provide fertility treatment utilizing the efficient, effective, and affordable INVOcell option. The practice has begun seeing patients and expects to perform initial treatment cycles in September 2021.

Signed a joint venture agreement with Bloom Fertility to open an INVO Center in Atlanta, Georgia. Led by reproductive specialist Dr. Sue Ellen Carpenter, M.D., the center is scheduled to open in September 2021.

Completed the site build-out and preparing to open the Company's INVO Center JV in Monterrey, Mexico, Positib Fertility, with Drs. Francisco Arredondo and Ramiro Ramirez. Expected to open in the October timeframe.

Signed a partnership agreement with Lyfe Medical, LLC to establish and operate a clinic in the San Francisco Bay Area to offer the INVO procedure. Lyfe Medical will own the clinic while INVO will set-up and manage an embryology center to provide laboratory services to the clinic and its patients in exchange for a share of the clinic's revenue.

Expanded capabilities within the global OB/GYN vertical with the appointment of Barbara Levy, M.D., FACOG, FACS as the SVP, global clinical integration. Dr. Levy is considered one of the most influential reproductive health clinical executives in the world, recently serving as Vice President, Health Policy at the American College of Obstetricians and Gynecologists (ACOG) and chair of the American Medical Association/Specialty Society Relative Value Scale Update Committee.
"With the blueprints now firmly in place for our INVO Center model, we are rapidly moving towards the opening of centers in Atlanta, Monterrey, Mexico and the San Francisco Bay area. We expect that Atlanta and Monterrey centers will both be opened before the end of the year, as site selections are complete, equipment has been ordered, staffing is ramping up, and marketing plans are in place. A San Francisco Bay area center should be opened shortly thereafter and our ongoing discussions with additional partners remain active. This is an exciting time for INVO as we have diversified our business model beyond device sales exclusively through our distributors, to a model where we will capture a share of the larger revenue generated by the entire INVO patient solution," stated Mike Campbell, COO of INVO Bioscience (NASDAQ: INVO).
INVO's INSTITUTIONAL OWNERSHIP
On May 11, a 13G was filed that confirms that David Sable's (a former #IVF doc turned portfolio manager) Special Situations Fund of AWM Investment Company increased their ownership to 11.1% or 1,154,153 share ownership of INVO Bioscience (INVO). They held 625k/6.5% as of the 13G filing 2-12-2021. If you are not familiar with them, I believe if you do a relatively small amount sleuthing you will find out that they are one of the most successful multi-billion funds over the last 20-years, especially in finding small undiscovered microchips. I believe that they led the round of $13M at $3.20 a share in November 12, 2020 that pushed INVO uplist to the NASDAQ. Here's the 13G filing.
---
INVO'S BOARD OF DIRECTORS
INVO has also transformed their board of directors adding a couple of powerful global thought leaders including Barbara Ryan, a Corporate (Public) Board Member with expertise in Healthcare and Life Science Capital Markets – Audit -Strategic Counselor to CEO/C-Suite within Biopharma & Med-Tech with 31 Years of experience working on Wall Street as Pharmaceutical Analyst and Managing Director and a frequent guest expert on CNBC. INVO also recently added Rebecca Messina. Messina has broad international experience in leading marketing for elite brands and businesses including Uber Technologies (UBER), Beam Suntory and The Coca-Cola Company (KO). She is currently a Senior Advisor at McKinsey & Company focused on advising internal teams and firm clients in the areas of marketing as a growth lever, including data driven marketing, brand building, and strategically shaping and transforming marketing agendas.
---
"Democratizing Infertility – A Severely Underserved Global Market"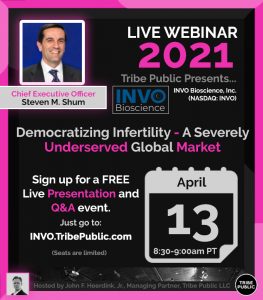 On April 13,  INVO's CEO Steve Shum delivered his presentation is titled "Democratizing Infertility – A Severely Underserved Global Market." You may view the video of the event now at this link: https://youtu.be/w4yQIc7eO5k.