Recently, I had the distinct pleasure of having a discussion with a long term friend of mine, Eric A. Adams, CEO of InMed Pharmaceuticals (NASDAQ: INM). InMed is a clinical-stage company developing a pipeline of cannabinoid-based pharmaceutical drug candidates, initially focused on the therapeutic benefits of cannabinol ("CBN"), while also developing a proprietary manufacturing approach, IntegraSyn™ to economically produce pharmaceutical-grade cannabinoids. Our discussion, centered around the business of 'rare cannabinoids', specifically their uses currently and in the future, and how InMed's IntegraSyn™ may play a significant role.
CEO BACKGROUND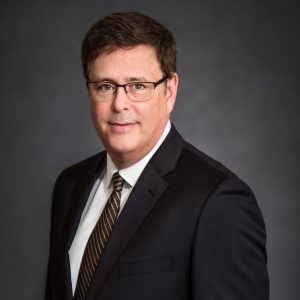 Eric A. Adams was appointed Chief Executive Officer, President and Director of InMed Pharmaceuticals, Inc. in June 2016. During his tenure at InMed, he has reconstituted the Board of Directors and the Executive management team, focused R&D efforts, and has raised more than $50M in capital to fund operations while uplifting InMed to the Nasdaq in Q4/2021, now trading under the symbol 'INM'.
Mr. Adams is a seasoned biopharmaceutical executive with more than 30 years of experience in establishing corporate entities, capital formation, global market development, mergers & acquisitions, licensing and corporate governance. Mr. Adams previously served as CEO at enGene Inc., where he oversaw its transformation from a nascent start-up into a venture capital-backed leader in gene therapy. Prior to enGene, Mr. Adams held senior positions in global market development with QLT Inc. (Vancouver), Advanced Tissue Sciences Inc. (La Jolla, CA), Abbott Laboratories (Chicago, IL), and Fresenius AG (Germany). As the previous Chairman of BIOTECanada's Emerging Company Advisory Board, and for his extensive generosity in mentoring biotech entrepreneurs, Mr. Adams is well-respected within the Canadian biotech industry as a strategic advisor to a number of early-stage biotech companies. He is a dual citizen of Canada and the United States, and holds a Masters' of International Business from the University of South Carolina and a Bachelor's Degree in Chemistry from the University of Southern Indiana.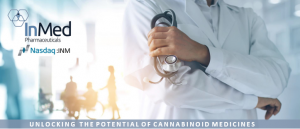 NOW THE Q&A 
Why is the world interested in developing therapies or products with cannabinoids and furthermore rare cannabinoids?
There are over 2,000 years of documented history of the health benefits of Cannabis in humans which stems primarily from the fact that the human body produces 2 cannabinoids naturally called endocannabinoids and therefore have natural affinity to interact with these compounds on a biological level. THC and CBD are the two major cannabinoids which are extensively researched and patented with several publications with respect to their medical applications.
Beyond the well-known cannabinoids of THC and CBD, there's a whole world of rare cannabinoids including CBG, CBN, CBC and THCV with unique properties that are believed to have a wide range of health benefits. These minor or rare cannabinoids are present in much smaller quantities in the plant and therefore have not been studied extensively due to limited access. As a result, the pharmaceutical and consumer applications of these cannabinoids are only beginning to be understood. At InMed, we see the rare cannabinoids as an untapped source of potentially efficacious and most likely safe drugs for a number of different diseases.
Are there other products in the marketplace today and what is the size of the markets?
On the pharmaceutical side, there is only one Cannabis-derived FDA approved product called Epidiolex®, which is CBD-based and was developed by GW Pharma who were recently acquired by Jazz Pharmaceuticals (JAZZ) for $7.2B. GW Pharma has been investigating the medical benefits of CBD for decades and this product was approved a few years ago. GW Pharma sales were in excess of US$500M in 2020 and are expected to grow to over $1B in a short period of time. What this tells us is, if you can advance one of these rare cannabinoids through the pharmaceutical development process, which is both lengthy and costly, and demonstrate both clinical efficacy and relative safety in a certain disease, it presents a significant commercial opportunity.
Due to evolving legislation and public acceptance, the addressable consumer markets are growing considerably.  We are seeing a significant increased demand for consumer products containing the non-psychoactive (i.e. non-THC) cannabinoids. Now, due to advances in the cannabinoid manufacturing allowing for consistent and economical production of high-quality rare cannabinoids, large pharmaceutical and CPG companies are starting to enter the space.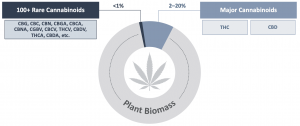 Why is a new approach necessary to manufacture rare cannabinoids?
There are more than 100 rare cannabinoids found in the Cannabis plant, making up less than 1% of the plant biomass. Their very low levels in the plant makes it economically impractical to extract for any large-scale commercial purposes. For this reason, much like many other products we use in our daily lives, it is necessary to evolve into synthetic approaches to produce the raw materials used in these products.  There are a few manufacturing processes that are widely used, including chemical synthesis and biosynthesis.
A good parallel to this evolution is insulin to treat diabetes. Originally, insulin was extracted from a natural source (the pancreas of animals) and purified to help normalize blood sugar levels in persons with diabetes.  Once the gene sequence for insulin was discovered, scientists were able to genetically engineer strains of yeast as well as bacteria to produce human insulin at very large scale.  Today, all of the insulin in the world is produced by this biosynthetic approach.  InMed applied a similar approach for rare cannabinoids.  Today, we have evolved to integrate biosynthesis with chemical synthesis to optimize rare cannabinoid manufacturing, calling it IntegraSynTM.
Now, several pharmaceutical, CPG, nutraceuticals and cosmetic companies are turning to cannabinoid synthesis to access sufficient quantities of rare cannabinoids with the necessary consistency, quality and purity at a low cost to commercialize these compounds across a spectrum of uses.
Can you explain what makes IntegraSyn™ different than other methods of manufacturing?
When it comes to cannabinoid manufacturing, there is no 'one size fits all' approach. One has to consider three primary criteria: Which cannabinoid structure do I want to make, how much of it do I want to make, and at what quality standard? Depending on the answer to these three questions, one manufacturing approach may be more beneficial than others.
Traditionally, two specific approaches are used at commercial scale for chemical / pharmaceutical compounds. Chemical synthesis involves the combination of starting materials/reactants to 'build' the selected cannabinoid molecule via chemical reaction(s). Biosynthesis entails genetically engineering a microbe, such as bacteria or yeast, to become living 'factories' to produce a target molecule. This typically involves the microbe producing enzymes or starting materials, or both, and assembling the molecule in a broth, which then has to be filtered and purified. With IntegraSyn™, we have designed a system that creates a very high efficiency enzyme using a biosynthesis method, then transferring this enzyme to simple reaction tank where it interacts with chemical starting materials to make the cannabinoid.
The several benefits of this approach include very high yield from the process, use of inexpensive processes and equipments, less production time, and use of inexpensive starting materials, all of which lead to a significant reduction in cost while achieving a very high quality product. Also, another key benefit of IntegraSyn™ is its flexibility. While traditional biosynthesis and chemical synthesis focus on the production of one cannabinoid from start to finish, the IntegraSynTM process provides flexibility to shift the production of one cannabinoid to a range of cannabinoids.
My understanding is that 1g/L is a benchmark for commercial viability at large scale.  What is the relevance of InMed's recent announcement of achieving 5g/L through the IntegraSyn™ process?
In short, the higher the yield the lower the manufacturing cost. For rare cannabinoid manufacturing to be a commercially viable option, a high-yielding and cost-effective method is required. Achieving a yield of 5g/L means we were able to make 5 times more cannabinoid product using the same process in the same amount of time, thus substantially lowering overall manufacturing costs. Achieving a yield of 5g/L significantly exceeds any currently reported industry yields, making InMed one of the leaders within the industry.
We are now looking to further optimize IntegraSyn™ with an aim of achieving even greater yield levels in large-batch production. In addition to reaching a higher yield, economies of scale are also expected to further reduce overall manufacturing costs.  Ultimately, when companies that intend to market finished products into the various commercial segments choose their provider of cannabinoid ingredients, cost, quality and consistency of the product is going to be the main driving factors.
Why is IntegraSynTM a good approach for pharma-grade rare cannabinoid production?
IntegraSyn™ is a unique approach and was originally designed as an optimized system for manufacturing pharmaceutical-grade cannabinoids. Because of the stringent process controls, system validations and final product quality assurance, pharmaceutical-grade products set the highest bar and are, thus, the most expensive. We have been able to minimize the number of manufacturing steps without sacrificing quality, allowing us to reduce overall costs for a pharma-grade product. However, as the yields continues to increase and, correspondingly, the cost continue to drop, we think IntegraSyn™ has significant potential across the spectrum of commercial uses for cannabinoids that are bioidentical to what is made in the plant.
What are the next steps? And when do you expect to commercialize?
We are now focused on advancing the program towards commercialization. The next key milestone is to manufacture our first large-scale batch through a pharma-grade-ready process in the coming months. We will continue to optimize the process and scale up the IntegraSynTM process into larger vessels.  Considering our production methodology is being designed with the flexibility to produce multiple cannabinoids, it opens up many different markets and consumer categories. We continue to develop relationships with contract manufacturing organizations for scale-up of the process with the anticipation of commercializing the process shortly. Our immediate commercial plans are to become a B2B wholesale supplier of rare cannabinoids to companies that are seeking to integrate rare cannabinoids into their marketed products.  
I hear this is a new emerging segment in Cannabis, how big do you see this market?
The market is very different when you consider the spectrum from recreational to pharmaceutical applications. The unique qualities of rare cannabinoids create a huge opportunity to create new drugs and nutraceuticals for treating various medical conditions.
All the major players from nutraceuticals, CPG, cosmetics and pet care companies are starting to see the benefits of rare cannabinoids and will ultimately create added demand. Recent reports suggest the biosynthesis of rare cannabinoids could be a $10B market by 2025 increasing to $115B in 2040. At the end of the day companies that produce rare cannabinoids with the highest quality and lowest prices will emerge as real leadersas this market evolves.
We believe this sector is now reaching an inflection point as commercial yields are starting to be realized. Up to this point product development and commercialization were difficult due to cost and quality restraints. In a very short period of time, you are going to start seeing companies exploring various formulations and cannabinoid combinations that were not possible before. It's an exciting time for the industry, as we start to see a variety of products hit the shelves over the next few years and we look forward to being a leading supplier to this evolving industry segment.
HERE'S A VIDEO TO HELP YOU BETTER UNDERSTAND INMED'S INTEGRASYN™
---
HERE'S WHAT THE SELL SIDE ANALYSTS HAVE SAID RECENTLY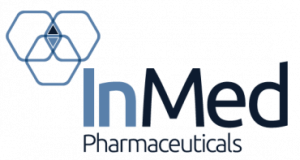 Canadian investment bank, ATB Capital, believes this technology will 'substantially improve the economics for the production of rare cannabinoids', which it adds 'will open the gates for pharmaceutical and consumer packaged goods (CPG) companies to use them as key inputs for products in the health, wellness, and recreational segments'.
A Raymond James Report stated, "We believe bio's success in providing access to pure, consistent, stable, and scalable sources of cannabinoids to large CPG and Pharma companies—beyond the "cottage industry" that is cannabis today—could bring about a renewed wave of innovation and investment into bio-based technologies, not seen since biofuels." 
A Raymond James Report stated, "Cannabinoids—a set of highly valued molecules in a large, emerging market—sit squarely within engineered biosynthesis' value and volume wheelhouse. A perfect target." 
---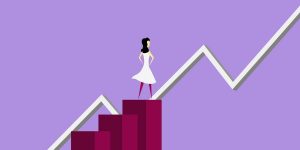 INVESTING IN INMED PHARMACEUTICALS (NASDAQ: INM)
Shares of InMed Pharmaceuticals Inc. (Nasdaq: INM) closed Friday's trading session at $2.50. The 52-wk range is $2.20 -$8.94. To learn more about InMed please visit the Vista Partners VP Watchlist page by clicking here.