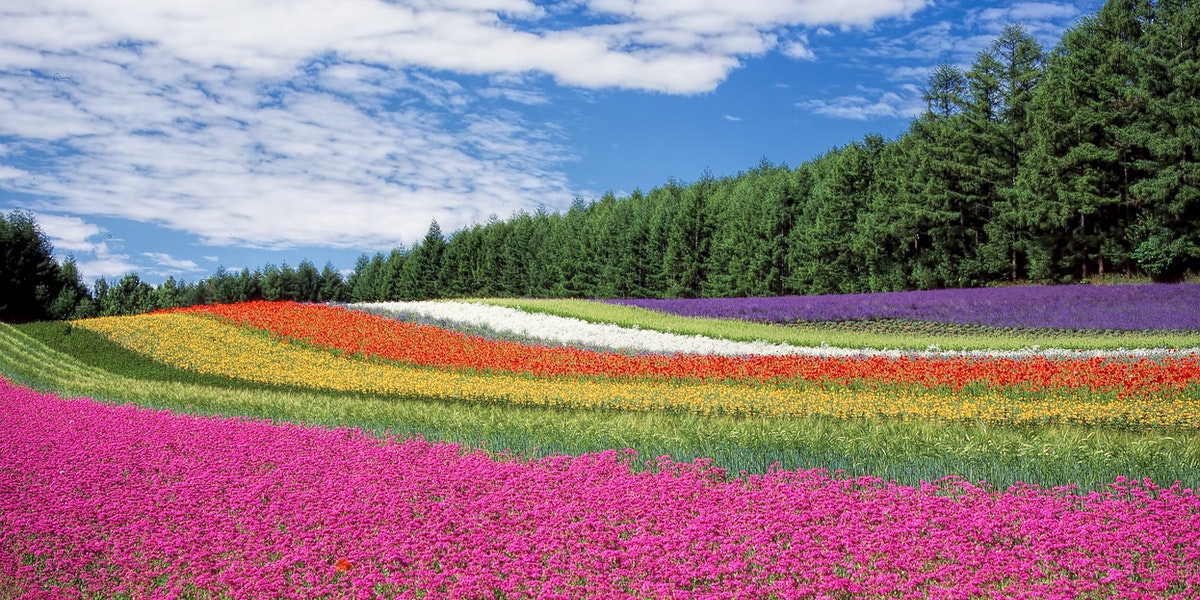 INVO Bioscience's INVOcell (IVC) system, an effective and affordable treatment for patients diagnosed with infertility, is positioned to serve a vastly underserved global market.  Today, approximately 90% of infertile couples go untreated primarily due to effective care is not available at an affordable cost within a reasonably geographically located treatment area. 
In yet another progressive move, INVO Bioscience, Inc. (NASDAQ: INVO), a medical device company focused on commercializing the world's only in vivo Culture System (IVC), INVOcell® announced on June 14th that they had the appointed Barbara Levy, M.D., FACOG, FACS as the Company's Senior VP, Global Clinical Integration. Dr. Levy is considered one of the most influential clinical executives in the world, recently serving as Vice President, Health Policy at the American College of Obstetricians and Gynecologists (ACOG) and chair of the American Medical Association/Specialty Society Relative Value Scale Update Committee. She joins INVO Bioscience to help further develop and accelerate the Company's global OB/GYN channel strategy. Dr. Levy has been a vocal advocate for women's health and health equity with appearances on The Oprah Winfrey Show and multiple other media outlets. Her research interests span from outcomes research in minimally invasive gynecologic surgery to optimizing care for women with chronic pelvic pain. Her clinical work focused on evidence-based, equitable, comprehensive care for women throughout their life course. She has published and co-authored over 85 studies.
 "Women's healthcare has been a life-long passion for me and a critical component of improving women's health and wellbeing is treatment for infertility. There is a large unmet need for efficient and scalable advanced treatment options, that are also accessible and affordable, to help bring equity to the large underserved patient population suffering from infertility. I believe IVC and the INVOcell technology provides a unique market solution and am excited to be joining the INVO Bioscience team to focus on quality and outcomes for patients and to support fertility practice healthcare professionals," stated Barbara Levy, M.D., FACOG, FACS as the Company's Senior VP, Global Clinical Integration at INVO Bioscience.
Dr. Levy is an advocate for advancing the quality of women's health. Dr. Levy was in private practice in comprehensive holistic women's health for over 30 years and served as a Medical Director for Women's and Children's Services for the Franciscan Health System in Washington State. She has served as a reviewer and editor for several medical journals, including Obstetrics & Gynecology, American Journal of Obstetrics and Gynecology, JAMA, JMIG, Fertility and Sterility.
In 2012 Dr. Levy joined the American College of Obstetricians and Gynecologists (ACOG) as Vice President for Health Policy, directing the expansion of the Advocacy Division to support implementation of best practices in women's health. She built a team dedicated to improvement in health equity and outcomes in maternity care, primary women's healthcare, and surgical interventions.
Dr. Levy graduated magna cum laude from Princeton University. She obtained her medical degree from the University of California, San Diego, followed by an internship and residency at the Oregon Health Sciences University.
"We are excited to have Dr. Levy join the INVO team to support our mission to bring care to the vast underserved patient population around the world experiencing infertility challenges. She has a clear understanding of the role that OB/GYNs can play in helping to democratize fertility care on a global basis by providing accessibility to affordable and effective treatments, the key hallmarks of the INVOcell technology. We look forward to leveraging her experience, relationships, and influence to accelerate our OB/GYN clinical implementation strategy in the years to come," stated Steve Shum, CEO of INVO Bioscience.
---
INVO's INVOcell CLINIC PROGRESS

INVO Bioscience (NASDAQ: INVO) has signed partnerships in the US including Atlanta, Birmingham, Alabama, and the San Francisco Bay Area in 2021 to open INVOcell clinics. INVO also signed a partnership in Mexico in late 2020, which is scheduled to open later this year. INVO believes that with the increased utilization of the INVOcell system via the addition of multiple clinic and distribution partnerships throughout the world will bring advanced affordable fertility care to the millions of underserved people suffering from infertility. 
Recently on June 30th, INVO signed a joint venture agreement in partnership with reproductive specialist Dr. Sue Ellen Carpenter, M.D. through its wholly-owned subsidiary, INVO Centers, LLC, to open an INVO clinic in Atlanta. The clinic, Bloom Fertility, is scheduled to open in the second half of 2021. INVO Bioscience will provide funding for start-up and operating costs and own 40% of the Atlanta Joint Venture. 
Dr. Sue Ellen Carpenter, MD, is Board Certified in Obstetrics and Gynecology. With over 30 years of experience in reproductive medicine, Dr. Carpenter's specialties include in vitro fertilization, treating congenital anomalies associated with infertility, as well as endometriosis and polycystic ovarian syndrome. Noted for excellence in her field and a "Top Doctor, Atlanta 2019 and 2020″ she delivers lectures across the country and has published more than a dozen papers on reproduction and fertility. She is an active member of the American Society of Reproductive Medicine (ASRM) as well as the Georgia OB GYN Society.
"I am thrilled to be opening a clinic in Atlanta to provide INVOcell to the many patients that suffer from infertility. INVOcell allows my patients to have a connected, intimate experience, and provides a simple workflow for my lab and clinic so I can efficiently treat more patients in need. As someone who has dedicated their life to helping people reach their goal of parenthood, INVOcell offers an effective and affordable treatment for the large number of patients that remain underserved, " stated Dr. Sue Ellen Carpenter, MD, is Board Certified in Obstetrics and Gynecology.

The U.S. INVO clinic agreements are in addition to the distribution agreement the Company previously signed with Ferring Pharmaceuticals, a leader in women's health and signed in early 2019 & which controls ~80% of the world's fertility drug market, to broadly commercialize INVOcell across the United States.
INVO CONTINUES TO TRANSFORM
INVO Bioscience, the company, has been transforming over the last couple of years & relatively recently, under the relatively new leadership of CEO Steve Shum (joined as CEO Q4 2019), successfully conducted a public offering in November 2020, raising gross proceeds of $13 million at $3.20/share, while uplisting the company onto the NASDAQ market. These moves strengthened their balance sheet & their position to execute on their commercialization efforts in the US and around the world and helped improve the adoptability of investors and Wall Street alike.
INVO has also transformed their board of directors adding a couple of powerful global thought leaders including Barbara Ryan, a Corporate (Public) Board Member with expertise in Healthcare and Life Science Capital Markets – Audit -Strategic Counselor to CEO/C-Suite within Biopharma & Med-Tech with 31 Years of experience working on Wall Street as Pharmaceutical Analyst and Managing Director and a frequent guest expert on CNBC.
INVO also recently added Rebecca Messina. Messina has broad international experience in leading marketing for elite brands and businesses including Uber Technologies (UBER), Beam Suntory and The Coca-Cola Company (KO). She is currently a Senior Advisor at McKinsey & Company focused on advising internal teams and firm clients in the areas of marketing as a growth lever, including data driven marketing, brand building, and strategically shaping and transforming marketing agendas.
INVO has also recently developed a Scientific Advisory Board of four members with deep industry knowledge. Two of the members, Karen R. Hammond, DNP, CRNP & Francisco Arredondo MD, MPH, FACOG,  have become joint venture partners seeking to open INVOcell-only clinics respectively in Birmingham, AL and Mexico in the second half of 2021.

Learn more at the VP Watchlist page for INVO Bioscience (NASDAQ: INVO) by clicking here.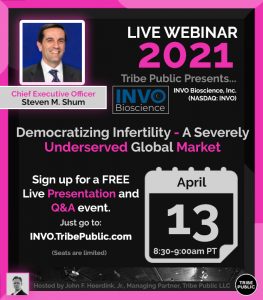 On April 13th, Mr. Steve Shum, Chief Executive Officer in CEO of INVO Bioscience (NASDAQ: INVO) delivered a presentation titled "Democratizing Infertility – A Severely Underserved Global Market" at the Tribe Public's Webinar Presentation and Q&A Event.  He was also available for a 5-10 minute Q&A session at the end of the presentation. Please view the even video now at this link.