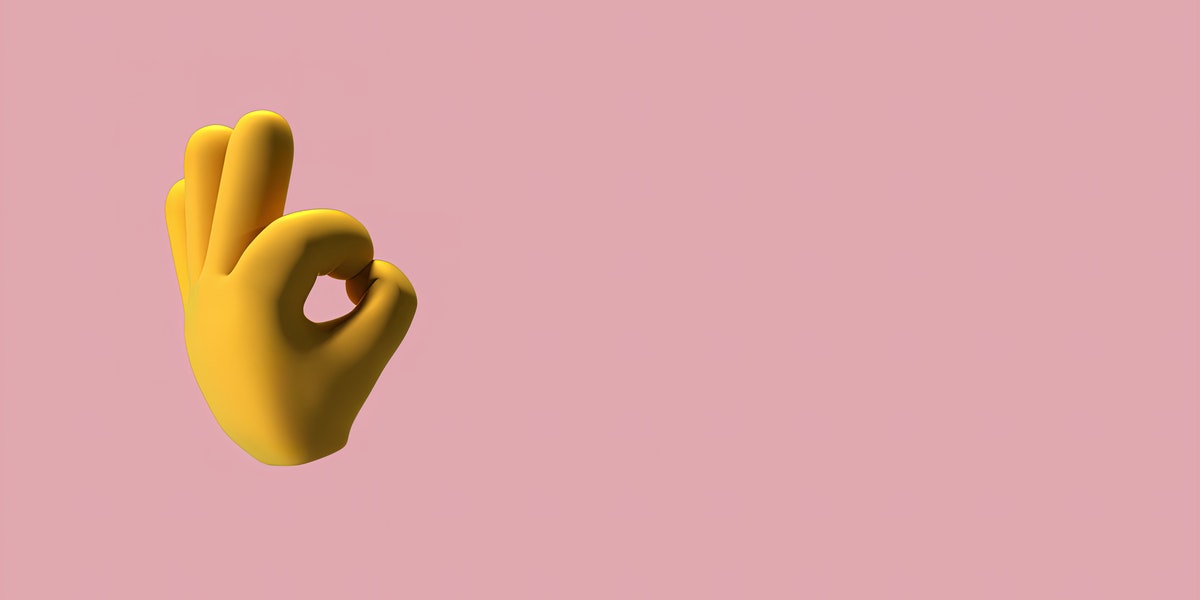 There are more than 100 rare cannabinoids found in the Cannabis plant, making up less than 1% of the plant biomass. Beyond the well-known cannabinoids of THC and CBD, there's a whole world of rare cannabinoids including CBG, CBN, CBC and THCV with unique properties that are believed to have a wide range of health benefits. However, their very low levels in the plant makes it economically impractical to extract for any large-scale commercial purposes. For this reason, much like many other products we use in our daily lives, it is necessary to evolve into synthetic approaches to produce the raw materials used in these products.  There are a few manufacturing processes that are widely used, including chemical synthesis and biosynthesis.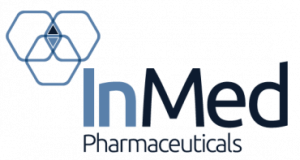 InMed Pharmaceuticals Inc. (Nasdaq: INM), a leader in the development, manufacturing and commercialization of rare cannabinoids, is seeking to fill this gap with its manufacturing processes. With flexibility across multiple manufacturing approaches, and its ability to scale up to meet market demand, InMed is well positioned to take advantage of this rapidly growing industry. The Company's proprietary processes ensure the production of rare cannabinoids with the quality, consistency and purity required for each target market. InMed's subsidiary, BayMedica, manufactures rare cannabinoids through proprietary synthetic methods that ensure reproducible quality and purity. Its products are produced under food-grade GMP standards, are bioidentical to plant derived compounds and certified by 3rd party laboratories. These cannabinoids can be custom formulated for a variety of consumer health and wellness applications including supplements, nutraceuticals, cosmetics and animal health. This emerging market is expected to grow significantly due to the increasing awareness of the potential benefits of cannabinoid-based products. According to the December 2021 Grand View Research report, the retail market for rare cannabinoids is expected to reach US$26 billion by 2028 with a forecasted compounded annual growth rate (CAGR) of >20% during the same period.
On Wednesday, Jan. 19, InMed announced that it has launched B2B sales of the rare cannabinoid cannabicitran (CBT) into the health and wellness sector. CBT is reportedly the first of several new product launches planned for the first half of 2022. InMed's subsidiary, BayMedica, has received initial purchase orders and has commenced commercial sales of the ultra-rare cannabinoid CBT. CBT is the second rare cannabinoid to be launched by BayMedica, which also sells CBC wholesale as a raw ingredient to the health and wellness sector. Additionally, commercial scale production of cannabidivarin (CBDV) is underway, with tetrahydrocannabivarin (THCV) production scheduled to follow shortly thereafter. The Company expects to produce over 100kg of CBDV and THCV in the coming months to meet anticipated initial demand.
"We are delivering on our objective to launch additional rare cannabinoids in early 2022 in response to inbound demand. By midyear, we expect to have at least four rare cannabinoids available for the health and wellness markets, positioning us as a leading large scale supplier of high quality rare cannabinoids in these sectors. The launch of CBT further demonstrates our ability to produce rare cannabinoids at commercial scale, an achievement that very few companies have been able to accomplish. We are pleased with initial demand and we expect to grow sales over the coming quarters as we continue to expand our product portfolio of rare cannabinoids," stated Shane Johnson, SVP and General Manager of BayMedica.
WALL STREET IS ARRIVING TOO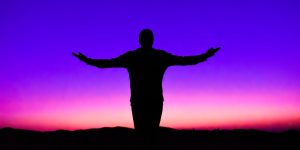 HERE'S WHAT WALL STREET IS SAYING!

On Nov. 17, Edison published their update report on InMed Pharmaceuticals Inc. (Nasdaq: INM) titled "Progress across the business" with a valuation of $290m or $20.53 per basic share. They stated, "With the recent closing of the BayMedica acquisition, InMed now has a substantially different profile than just a few months ago. The company is now in its commercial stage as BayMedica has been selling cannabichromene (CBC) in bulk. InMed has also advanced past the healthy volunteer stage in the INM-755 clinical program through the initiation of the INM-755 Phase II trial (755-201-EB) in up to 20 epidermolysis bullosa (EB) patients." Click here to view the entire report. 
On Nov. 19,  Scott R. Henry, CFA and sell-side analyst at Roth Capital Partners issued his update report titled "INM: FY1Q22 Recap – Pipeline on Track with Near-term Revenues."  Within his report he starts out as follows: "InMed Pharmaceuticals reported FY1Q22 results (11/10/2021) that were within expectations. Key takeaways, in our opinion, include: 1) the pipeline remains on track with the phase 2 INM-755 trial for the treatment of EB enrolling patients (data targeted by end of CY2022); 2) the BayMedica acquisition should result in revenues as soon as FY2Q22; and 3) the cash balance should extend the runway into CY4Q22 (FY2Q23). He maintained his Buy rating with 12-Mo. price target of $7.50/share.

On Nov. 29, Raghuram Selvaraju, Ph.D. an sell-side analyst at H.C. Wainwright published his Initiation of Coverage report titled "INM: Charging After Pharmaceutical-Grade Cannabinoids; Initiating at Buy and $6 PT." He stated " We are initiating coverage of InMed Pharmaceuticals, an emerging specialty drug company focused on developing and commercializing pharmaceutical-grade preparations of rare cannabinoids—compounds found in the Cannabis sativa plant (cannabis) in extremely minute quantities that are challenging to manufacture at scale. InMed's novel IntegraSyn™ technology platform utilizes proprietary enzymatic processes in order to produce such molecules at yields commensurate with commercially viable thresholds. We draw investors' attention to the fact that InMed is primarily working currently with cannabinol (CBN), which it has formulated for application as both a cream for treatment of skin diseases, as well as an eye drop for treatment of ophthalmological conditions. InMed's lead candidate for treatment of epidermolysis bullosa (EB), INM-755 (cannabinol cream), is currently in a Phase 2 trial being conducted across seven countries located mainly in Europe. The company's ocular drug candidate, INM-088 (an eye drop formulation of cannabinol), is being targeted towards glaucoma, which afflicts 75M globally. Our rating on InMed is Buy with a 12-month price target of $6 per share."
Canadian investment bank, ATB Capital, believes this technology will 'substantially improve the economics for the production of rare cannabinoids', which it adds 'will open the gates for pharmaceutical and consumer packaged goods (CPG) companies to use them as key inputs for products in the health, wellness, and recreational segments'.
A Raymond James Report stated, "We believe bio's success in providing access to pure, consistent, stable, and scalable sources of cannabinoids to large CPG and Pharma companies—beyond the "cottage industry" that is cannabis today—could bring about a renewed wave of innovation and investment into bio-based technologies, not seen since biofuels." 
A Raymond James Report stated, "Cannabinoids—a set of highly valued molecules in a large, emerging market—sit squarely within engineered biosynthesis' value and volume wheelhouse. A perfect target."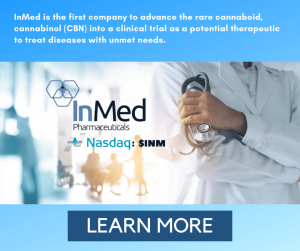 ---
Are there other products in the marketplace today and what is the size of the markets?
On the pharmaceutical side, there is only one Cannabis-derived FDA approved product called Epidiolex®, which is CBD-based and was developed by GW Pharma who were acquired by Jazz Pharmaceuticals (JAZZ) for $7.2B in May 2021. GW Pharma has been investigating the medical benefits of CBD for decades and this product was approved a few years ago. GW Pharma sales were in excess of US$500M in 2020 and are expected to grow to over $1B in a short period of time. What this tells us is, if you can advance one of these rare cannabinoids through the pharmaceutical development process, which is both lengthy and costly, and demonstrate both clinical efficacy and relative safety in a certain disease, it presents a significant commercial opportunity.
Due to evolving legislation and public acceptance, the addressable consumer markets are growing considerably.  We are seeing a significant increased demand for consumer products containing the non-psychoactive (i.e. non-THC) cannabinoids. Now, due to advances in the cannabinoid manufacturing allowing for consistent and economical production of high-quality rare cannabinoids, large pharmaceutical and CPG companies are starting to enter the space.
The market is very different when you consider the spectrum from recreational to pharmaceutical applications. The unique qualities of rare cannabinoids create a huge opportunity to create new drugs and nutraceuticals for treating various medical conditions. All the major players from nutraceuticals, CPG, cosmetics and pet care companies are starting to see the benefits of rare cannabinoids and will ultimately create added demand. Recent reports suggest the biosynthesis of rare cannabinoids could be a $10B market by 2025 increasing to $115B in 2040. At the end of the day companies that produce rare cannabinoids with the highest quality and lowest prices will emerge as real leadersas this market evolves.
InMed believes this sector is now reaching an inflection point as commercial yields are starting to be realized. Up to this point product development and commercialization were difficult due to cost and quality restraints. In a very short period of time, you are going to start seeing companies exploring various formulations and cannabinoid combinations that were not possible before. It's an exciting time for the industry, as we start to see a variety of products hit the shelves over the next few years and we look forward to being a leading supplier to this evolving industry segment.
---
IN THE NEWS
On Jan. 6, our sister organization, Tribe Public, held a FREE Webinar Presentation and Q&A Event with InMed Pharmaceuticals (NASDAQ: INM) titled "Addressing The Increasing Demand For Rare Cannabinoids" with Eric A. Adams, MIBS, CEO & President of InMed Pharmaceuticals (NASDAQ: INM) SVP, General Manager of BayMedica Shane Johnson, MD & VP, Commercial Operations Chris Meiering, PhD. The event was very interesting and informative, well attended, and now the event video is now published at the Tribe Public YouTube Channel. You may view it now by clicking here.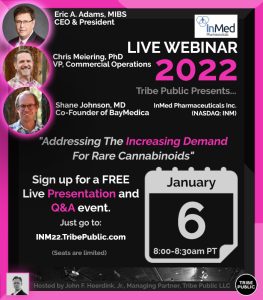 On Jan. 5th, InMed issued its Annual Letter to Shareholders from President and CEO Eric A. Adams which stated, "Building on a very strong 2021, we are looking forward to 2022 with the continued advancement of our pharmaceutical drug development programs and, with our acquisition of BayMedica, transitioning to becoming a leading B2B supplier of rare cannabinoids to the consumer health and wellness sector. I'm very excited to provide updates on our progress as we begin to commercialize new products and explore an array of rare cannabinoids for their potential therapeutic applications." Click here to read the letter. 
On Dec. 20, InMed announced that a peer-reviewed scientific article entitled "Cannabinol Modulates Neuroprotection and Intraocular Pressure: A Potential Multi-Target Therapeutic Intervention for Glaucoma", has been published in Biochimica et Biophysical Acta (BBA – Molecular Basis of Disease), a leading international journal focused on biochemistry and molecular genetics of disease processes and models of human disease in the area of aging, cancer, metabolic-, neurological-, and immunological-based diseases. The peer-reviewed article highlights research evaluating the use of cannabinol, or CBN, as a potential treatment option for glaucoma. Several studies were conducted to evaluate the survival of retinal ganglion cells, modulation of intraocular pressure and its effects on extracellular matrix proteins using in vitro and in vivo glaucoma models. These studies resulted in two key findings: first, CBN may promote neuroprotection of cells in the retina that are responsible for vision; and second, CBN may normalize intraocular pressure by attenuating changes in the extracellular matrix proteins. The article also reports on the comparison of CBN with other cannabinoids, including cannabidiol (CBD) and tetrahydrocannabinol (THC), with results indicating that CBN has a stronger effect and broader neuroprotective therapeutic range. These observations elucidate the therapeutic potential for CBN in the treatment of glaucoma.