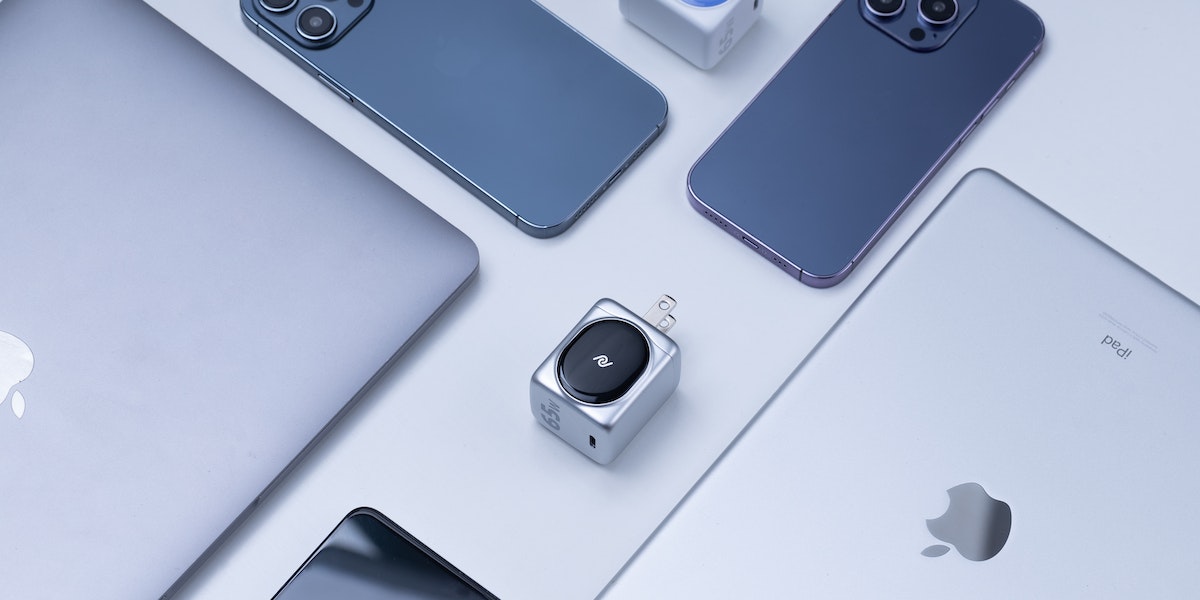 Reportedly, Apple (AAPL) hosted its annual iPhone launch event at Apple Park, the company's Cupertino, California headquarters. During this event, Apple unveiled its latest products, including the iPhone 15 and iPhone 15 Plus, which come with USB-C charging and start at a base price of $799. Additionally, Apple introduced the iPhone 15 Pro and Pro Max, with prices starting at $999. A standout announcement was the introduction of the all-new Apple Watch, constructed with 95% titanium and boasting an impressive 72-hour battery life. Furthermore, updated AirPods with USB-C connectivity were also unveiled.
Apple confirmed that the iPhone 15 Pro would maintain its price point from the previous year at $999, but the iPhone 15 Pro Max would be priced at $1,199, offering users a storage increase of 256 gigabytes. Customers interested in these new products can place their preorders starting on Friday, with availability set for September 22nd.
The cameras on the iPhone 15 Pro are receiving a significant enhancement:
The 48-megapixel cameras will now have the default capability to capture photos in 48MP HEIF format and super high resolution. Additionally, the 24-megapixel camera will excel in low-light conditions, producing highly detailed images.
The sensor used in the iPhone 15 Pro is larger than those in previous models. This, combined with the iPhone 15 Pro's Photonic Engine, supports focal lengths of 24, 28, and 35 millimeters.
In the case of the iPhone 15 Pro, there's also a 3X telephoto camera, while the iPhone 15 Pro Max takes it a step further with a 5X zoom capability. This marks a new distinction between these two top-tier iPhone models.
The iPhone 15 Pro Max will introduce a 120-millimeter focal length as well. Additionally, users will have the convenience of connecting their iPhone 15 Pro directly to their Mac computers.
With the transition to USB-C charging in the iPhone 15, users will need new cables, as their old Lightning cables will no longer be compatible. While many people may already have USB-C cables for their laptops, headphones, and other devices, Apple is likely to include a compatible cable in the iPhone's packaging for added convenience.
Apple announces an "action button" for iPhone 15 Pro:
In the iPhone 15 Pro, Apple is introducing a change by replacing the traditional mute switch with what they call an "action button." This new button not only allows users to toggle between ringing and silent modes but also offers a range of additional functions. For example, pressing the button can initiate actions like starting a voice memo. Furthermore, this button's actions will be accompanied by visual feedback within the dynamic island of the iPhone 15 Pro.
Powered by the A17 Pro: Industry's First 3nm Chip Drives New Features:
The new A17 Pro chip includes a "breakthrough" GPU, a 3 nanometer chip likely manufactured by Taiwan Semiconductor. It also includes 19 billion transistors.
It will have two high-performance cores and four "efficiency" cores. The Neural Engine, Apple's artificial intelligence accelerator, will be twice as fast and powered by 16 cores, per the company. The GPU is a six-core unit that Apple says is 20% faster than the prior version, and the company says the GPUs are focused on gaming rather than AI.
The iPhone 15 Pro will be available in three different colors:
The high-end, titanium-enclosed iPhone 15 Pro will come in black, blue and silver. Apple executives are touting how light and thin it is, while also emphasizing the strength of titanium, comparing it to the alloys used in the Mars rover.
The base iPhone 15 will cost $799. The larger iPhone 15 Plus will cost $899. The low-end price remains unchanged.
Apple's new bands show the company moving beyond fashion:
With Apple's decision to no longer incorporate leather into their product materials, they unveiled a range of new bands and color options on Tuesday. A significant number of these options visibly highlight their use of recycled materials through their color schemes and patterns.
While this move away from leather aligns with environmental considerations, it signifies a notable departure from the original launch of the Apple Watch in 2014. At that time, the emphasis was on fashion, marked by partnerships with luxury brands and the inclusion of luxury finishes, particularly leather.
As for pricing, Apple has disclosed that the Apple Watch Ultra 2 will be available at a price point of $799, the Series 9 will be offered at $399, and the second-generation SE will be priced at $249.
Dow 30 component Apple (AAPL) revolutionized personal technology with the introduction of the Macintosh in 1984. Today Apple leads the world in innovation with iPhone, iPad, Mac, Apple Watch, and Apple TV. Apple's four software platforms — iOS, macOS, watchOS, and tvOS — provide seamless experiences across all Apple devices and empower people with breakthrough services including the App Store, Apple Music, Apple Pay, and iCloud. Apple's more than 100,000 employees are dedicated to making the best products on earth, and to "leaving the world better than they found it. To learn more about Apple (AAPL) and track its ongoing progress at Vista Partners Apple (AAPL), Coverage Page.

Stay Informed! Stay Competitive! Pleasejoin us at Vista Partners to receive our FREE email updates throughout the week and view our exclusive content and research. Vista Partners LLC ("Vista") is a California Registered Investment Advisor based in San Francisco. Vista delivers timely and relevant insights via the website: www.vistapglobal.com with daily stories, weekly market updates, monthly macroeconomic newsletters, podcasts, & Vista's proprietary equity and market research to help you stay informed and stay competitive. Vista's mission is to invest partner capital while arming investors with a comprehensive global financial perspective across all market sectors. Vista also seeks to provide select issuers with actionable advice regarding fundamental development, corporate governance, and capital market directives.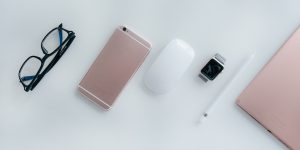 ---
DID YOU KNOW?…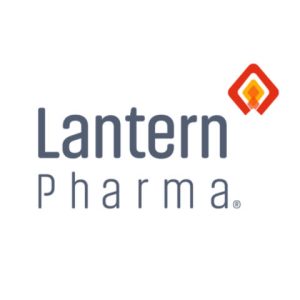 Lantern Pharma (LTRN) is an Artificial Intelligence (AI) firm that is transforming the cost, pace, and timeline of oncology drug discovery and development and specifically is developing targeted and transformative cancer therapies using its proprietary RADR® AI and machine learning ("ML") platform with multiple clinical stage drug programs.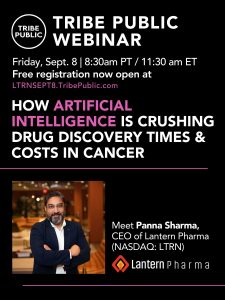 On September 8,  Lantern's Chief Executive Officer, Panna Sharma, delivered a presentation titled
"How Artificial Intelligence Is Crushing Drug Discovery Times & Costs In Cancer"
 at a Tribe Public CEO Presentation & Q&A Event. The Event video is now published at the
Tribe Public YouTube Channel that you may view now by clicking here
.
On August 31, Lantern announced that it will present positive data highlighting the anti-tumor potency of its drug candidate LP-284 for non-Hodgkin's lymphoma (NHL) at the Society of Hematologic Oncology (SOHO) Eleventh Annual Meeting occurring on Sept. 6 – 9, 2023, at the George R. Brown Convention Center in Houston, Texas. LP-284 is a small molecule with a synthetically lethal mechanism of action that preferentially damages cancer cells.. Lantern is developing LP-284 for the treatment of relapsed or refractory NHL, including Mantle Cell Lymphoma and Double Hit Lymphomas. Lantern expects to initiate Phase 1 clinical trials for LP-284 during Q4 of 2023. Lantern's LP-284 program has been accelerated and de-risked using AI insights and biological modeling powered by RADR®. Lantern has been able to advance LP-284 from initial RADR® insights regarding anti-cancer activity and potential mechanisms of action in hematological cancers, to selection of specific subtypes of lymphomas with superior response, to late-stage IND enabling studies, and initial design of first in human clinical trials in less than two years.
Details of the poster presentation are listed below and can be found on the SOHO website. A full version of the poster will be available on Lantern's website on September 11, 2023.
Title: LP-284 – Targeting Homologous Recombination Deficiencies in B-Cell Non-Hodgkin's Lymphomas with the Novel Anti-Tumor Small Molecule LP-284
Date and Time: September 6, 2023, 6:00pm CT
Poster Number: ABCL-180
Presenter: Jianli Zhou, Ph.D., Lantern Pharma
On August 28, Lantern announced a substantial increase in the power and capabilities of RADR® focused on improving the drug development process for immune checkpoint inhibitors (ICIs). These capabilities are expected to address the multiple challenges facing the increased usage of ICIs in cancer therapy. Since gaining regulatory approval in 2011, ICIs have improved the lives of tens of thousands of cancer patients as either monotherapies, and more recently, in combination regimens with other therapies. The success of ICIs has resulted in multiple competing ICI molecules, often from the same class, in overlapping cancer indications. Additionally, recent clinical trial failures reveal headwinds to the desired expansion of ICIs for a broader range of cancers and patient groups. Currently, there are over 5,200 ongoing clinical trials involving ICIs, many of these lacking adequate biomarker strategies or guidance from AI enabled approaches to optimize the selection of patient responder populations. In a recent study presented at the 2023 ASCO meeting, RADR's® algorithms demonstrated an 88% accuracy rate in predicting which melanoma (skin cancer) patients exhibiting resistance to anti-PD1 therapy will respond to Elraglusib, a GSK-3ϐ inhibitor being developed by Actuate Therapeutics, which previously entered into a multi-year research and development collaboration with Lantern Pharma to leverage the RADR® platform. The continued growth of ICIs, especially the approval of new ICIs, will be predicated on: 1) efficiently identifying new biomarker or molecular signatures for optimal patient selection, stratification, and management, and 2) rapidly developing combination regimens that overcome treatment challenges facing current and emerging solid and hematological cancer indications. Lantern's latest RADR® AI developments will focus on addressing these challenges by building automated and highly scalable computational analytics to generate clinically relevant tumor-specific and tumor-agnostic molecular signatures to guide the identification and development of drug combinations that can prolong ICI durability of response and improve patient survival. These developments will leverage RADR® to uncover molecular drivers of response and resistance influencing ICI treatment outcomes by coupling pathway and network-based analytics with the simultaneous screening of millions of targets from complex clinical and biological data sets. This capability will be powered by tens of billions of new data points from immunotherapy and checkpoint inhibitor studies that Lantern has begun to add to its RADR® platform.
Lantern plans to deploy its new RADR® ICI predictive module with biopharma partners and to identify potential combinatorial strategies for LP-184 and LP-284, the first of Lantern's drug candidates developed internally with the assistance of the RADR® AI platform. The ICI market is projected to reach $67.8 billion in annual sales by 2025, according to GlobalData, with future growth dependent on approvals from precision-based approaches guiding the development and positioning of new combination therapies.
"We are expanding the functionality of our RADR® AI platform in ways that aim to solve the very meaningful and important challenges of future checkpoint inhibitor development. We initially began this effort by identifying meaningful combinations with checkpoint inhibitors that might be the most effective with our LP-184 and LP-284 drug candidates. Our latest RADR® advancements add a new level of speed, scalability, and precision in the identification of rational combination therapies that have the potential to overcome known shortcomings of ICIs. The current clinical trial landscape of ICIs is at a critical juncture, with dozens of new indications being pursued. Unfortunately, the majority of these trials are unlikely to succeed unless the right cancer subtypes are pinpointed and unless the right combinations with other molecules are pursued. ICIs have the potential to benefit from the ability to predict which patient groups and which cancer subtypes will respond to the drug or drug combination, which is a fundamental part of our AI platform, RADR®, as we recently demonstrated in our collaborative 2023 ASCO poster," stated Panna Sharma, Lantern's CEO and President.
On June 13, 2023 Borqs Technologies, Inc. (Nasdaq: BRQS, "Borqs", or the "Company"), a global provider of 5G wireless and Internet of Things (IoT) solutions, today announced its plans to further expand into artificial intelligence, leveraging its deep IoT expertise across industries. Beyond Borqs' current product line for water and energy reservation for smart city applications, the Company plans to accelerate development of consumer-oriented devices and solutions with artificial intelligence capabilities. Artificial Intelligence of Things (AIoT) is defined as the combination of artificial intelligence (AI) technologies with the Internet of Things (IoT) to achieve more efficient IoT operations, improve human-machine interactions and enhance data management and analytics. Borqs further plans to commercialize products that are currently targeted to be applied in e-health, sports, education, and asset protection. According to a Global Market Insights Report dated May 2023, Artificial Intelligence of Things market size was valued at over USD 9 billion in 2022 and is anticipated to grow at a CAGR of 20% between 2023 and 2032.