Fed Induced Hangover Pushes Large Caps Into The Red on Thursday – $DIS $BBBY $BYND $GME $INMB Rise!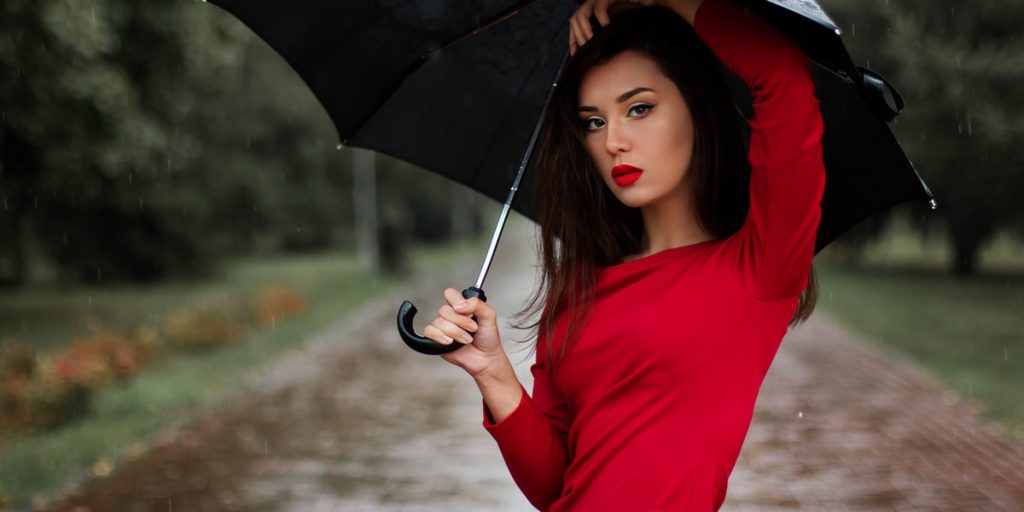 "There is little that can withstand a man who can conquer himself." – Louis XIV, French – Royalty September 5, 1638 – September 1, 1715
The day after the Fed released its spooky 'Minutes' pushing for higher rates sooner than later,  the markets did not feel or perform much better and they ended the day in the red once again.  On the positive side, 5 sectors did manage to close in the green today with the energy sector leading the way rising 2.3%, however it rose on the backside of surging oil prices that unfortunately jumped another 2% to close at $79.40/bb. Yikes, at this rate, we all may need to get an electric car after all as the gas at the pump is pushing north at an alarming rate. The yield curve also rose again as 2-yr yield moved up 5 basis points to .88% & the 10-yr yield moved up 2 basis points at 1.73%, while the U.S. Dollar Index ticked up .1% to 96.30.  
A number of macroeconomic reports were also released again today. The Initial claims report for the week ending January 1 rose by 7k to 207k, while the continuing claims report for the week ending December 25 showed a rise by 36k to 1.754M. The ISM Non-Manufacturing Index report for December was confirmed to have dropped to 62% still well above the expansion line. The trade deficit for November moved wide to $80.2B. The Factory orders for manufactured goods report confirmed a rise by 1.6% month/month in November, while shipments of manufactured goods rose .7%.
The large cap indices in turn all closed lower as follows: the S&P 500 closed at 4,696.05 (-.10%), the Dow 30 closed at 36,236.47 (-.13%), & the Nasdaq closed at 15,080.87 (-.13%) as the growth & tech sectors were pressured again.  However, the small caps on the Russell 2000 bounced closing at 2,206.37 (+.56%) as did the MicroCaps which closed the day higher with the iShares Micro-Cap ETF (IWC) closed at $137.37, .17%. All things biotech also got hit again today as the SPDR S&P Biotech ETF (XBI), a barometer of the smaller biotech stocks, which has taken a significant hit over the last year, also established a new 52-week low at $102.46, before recovering to close the day at $105.20, -.03%. The 52-wk range is $102.46 – $174.79. It would seem as though will find a floor soon as many of these issuers are trading at or near cash. Hopefully an M&A train will get on track soon in the biotech sector. 
Gold prices closed at $1,792/oz., -$19/oz., silver closed at $22.19, -$.63, Bitcoin (BTC) closed at $42,986.48, -1.37% over the past 24-hours.
VP WATCHLIST UPDATES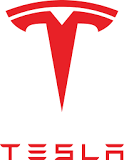 Apple (AAPL) closed at $172, -1.67%. Did you know that Apple's CEO Tim Cook saw his compensation package jump +6 times year over year swelling to $98.7 million in 2021?
Tesla (TSLA) closed at $1,064.70, -2.15%.  On January 2, Tesla reported that they achieved production of more than 305,000 vehicles and deliveries of over 308,000 vehicles in Q4 & that in 2021, they delivered over 936,000 vehicles, thus beating expectations.  A Wedbush sell side analyst Dan Ives stated recently that he thinks Tesla shares could be headed to $1,800.
The Walt Disney Company (DIS) closed at $156.90, +1.1%.  Disney will hold its annual meeting of shareholders on Wednesday, March 9, 2022 at 1:00 p.m. ET / 10:00 a.m. PT by virtual meeting and will be made available via webcast at
www.disney.com/investors
.

On the small side, Atossa Therapeutics (NASDAQ: ATOS), a clinical-stage biopharmaceutical company seeking to develop innovative proprietary medicines in oncology and infectious disease with a current focus on breast cancer and COVID-19, rose to an intraday high of $1.61 prior to closing at $1.53, -1.92% on 2.437M shares of trading volume. On Dec. 22,
Atossa announced that it has initiated enrollment of its Phase 2 clinical study of oral Z-Endoxifen in Sweden
. Participants in the study will be premenopausal women with elevated mammographic breast density, which is an emerging public health issue affecting more than 10 million women in the United States and many more worldwide. "
This is an extremely important milestone as it marks the next phase of developing our proprietary Z-Endoxifen,"
said Steven Quay, M.D., Ph.D., Atossa's Chairman and CEO.
"This study will help determine the relationship between daily doses of Endoxifen and reduction in breast density and will help us further assess safety and tolerability. We look forward to providing progress updates as they become available." 
Physician-Scientist and CEO of Atossa, Steven Quay, MD, PhD, recently published an e-print on his research into a new coronavirus, named BANAL-236, reported by the Institut Pasteur in September 2021. At the time, BANAL-236 was the first bat coronavirus with high homology to SARS-CoV-2 that could directly infect human cells using the same receptor that SARS-CoV-2 uses. The new research reports that BANAL-236 has evolved the ability to infect human cells by an unknown mechanism that violates over 40 years of coronavirus research.
The COVID-19 e-print is available here
and has also been submitted to Nature.
"When I read the paper from the Institut Pasteur and looked at the virus, I immediately assumed there was an error in either the way the sequence was assembled or a mix up in the lab with another virus to explain the infectivity,"
Quay said. "
I contacted the Institut Pasteur with my findings and was deeply disturbed to learn that there was not, in fact, some simple mistake had occurred to explain things. I now knew we were in uncharted waters with a virus that is missing eight key elements that have been shown, over 40 years of research, to be required for growth." 
Atossa management also recently presented at  
"A Town Hall Q&A Event With Atossa Therapeutics Management Team"
 with Tribe Public.
You can view it clicking here
. Atossa also announced recently that it had completed a pre-investigational new drug (PIND) meeting with the FDA to obtain input from the FDA on pre-clinical, clinical, manufacturing and regulatory matters in the U.S. for Atossa's proprietary Z-endoxifen to treat breast cancer in the neoadjuvant (prior to surgery) setting.
On Dec. 13, Fate Therapeutics, Inc. (NASDAQ: FATE), a clinical-stage biopharmaceutical company dedicated to the development of programmed cellular immunotherapies for patients with cancer, showcased positive interim Phase 1 data from the Company's FT596 program for patients with relapsed / refractory B-cell lymphoma (BCL) at the 63rd American Society of Hematology (ASH) Annual Meeting and Exposition. FT596 is the Company's off-the-shelf, multi-antigen targeted, iPSC-derived natural killer (NK) cell product candidate derived from a clonal master induced pluripotent stem cell (iPSC) line engineered with three anti-tumor functional modalities: a proprietary chimeric antigen receptor (CAR) optimized for NK cell biology that targets B-cell antigen CD19; a novel high-affinity, non-cleavable CD16 (hnCD16) Fc receptor that has been modified to prevent its down-regulation and to enhance its binding to tumor-targeting antibodies; and an IL-15 receptor fusion (IL-15RF) that augments NK cell activity. "The interim dose-escalation clinical data from our FT596 program in relapsed / refractory B-cell lymphoma demonstrate that off-the-shelf, iPSC-derived CAR NK cells can bring substantial therapeutic benefit to heavily pre-treated patients in urgent need of therapy, with high response rates and meaningful duration of responses," said Scott Wolchko, President and Chief Executive Officer of Fate Therapeutics. "We are particularly pleased with the therapeutic profile that has emerged with FT596 in combination with rituximab, where over half of the patients treated with a single dose of FT596 at higher dose levels achieved a complete response with a favorable safety profile that is clearly differentiated from CAR T-cell therapy. We look forward to assessing a two-dose treatment schedule for FT596 to further define its potential best-in-class therapeutic profile and ability to reach more patients, including those earlier in care." Shares of FATE closed at $51.86, -7.29%.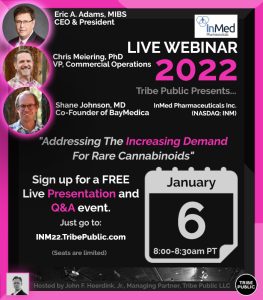 InMed Pharmaceuticals Inc. (NASDAQ: INM), a leader in the development, manufacturing and commercialization of rare cannabinoids, closed at $1.29, -3.01 after hitting an intraday high of $1.38. Today, InMed's CEO Eric A. Adams, Shane Johnson, SVP and General Manager of BayMedica and Chris Meiering, VP of Commercial Operations, presented at Tribe Public's Webinar Presentation and Q&A Event titled
"Addressing The Increasing Demand For Rare Cannabinoids."
On Dec. 20, InMed announced that a peer-reviewed scientific article entitled
"Cannabinol Modulates Neuroprotection and Intraocular Pressure: A Potential Multi-Target Therapeutic Intervention for Glaucoma
", has been published in Biochimica et Biophysical Acta (BBA – Molecular Basis of Disease), a leading international journal focused on biochemistry and molecular genetics of disease processes and models of human disease in the area of aging, cancer, metabolic-, neurological-, and immunological-based diseases. The peer-reviewed article highlights research evaluating the use of cannabinol, or CBN, as a potential treatment option for glaucoma. Several studies were conducted to evaluate the survival of retinal ganglion cells, modulation of intraocular pressure and its effects on extracellular matrix proteins using in vitro and in vivo glaucoma models. These studies resulted in two key findings: first, CBN may promote neuroprotection of cells in the retina that are responsible for vision; and second, CBN may normalize intraocular pressure by attenuating changes in the extracellular matrix proteins. The article also reports on the comparison of CBN with other cannabinoids, including cannabidiol (CBD) and tetrahydrocannabinol (THC), with results indicating that CBN has a stronger effect and broader neuroprotective therapeutic range. These observations elucidate the therapeutic potential for CBN in the treatment of glaucoma.
INmune Bio, Inc. (NASDAQ: INMB), a clinical-stage immunology company focused on developing treatments that harness the patient's innate immune system to fight disease, recently 
presented data at the San Antonio Breast Cancer Symposium showing mucin 4 (MUC4) expression predicts worse survival and is a treatment resistance factor in women with triple negative breast cancer (TNBC).
INB03, a DN-TNF therapy, can reverse TNBC treatment resistance by decreasing expression of MUC4 and reducing immunosuppression in the tumor microenvironment (TME) by increasing anti-tumor macrophage phagocytosis and increasing lymphocyte function in the TME. The poster will be presented by Dr. Roxana Schillaci, Instituto de Biología y Medicina Experimental, Buenos Aires, on December 10th. RJ. Tesi, M.D, Chief Executive Officer of INmune Bio, commented, "We are excited to have Dr. Schillaci present these data that expand on her previous findings on the role of MUC4 expression which predicts worse survival and resistance to therapy in HER2+ breast cancer therapy. Now, in both TNBC and HER2+ breast cancer, MUC4 predicts resistance to immunotherapy and an immunosuppressive TME that can be overcome with INB03." Treatment with INB03 in murine models of breast cancer improves macrophage anti-tumor phagocytic activity, lymphocyte infiltration and function suggesting improved response to combination therapies of INB03 with inmunotherapy. Shares of INMB closed trading today at $9.17, +.55% after hitting an intraday high of $10.35.

Shares of INVO Bioscience, Inc. (NASDAQ: INVO), a medical device company focused on commercializing the world's only in vivo culture system (IVC), INVOcell®, closed at $3.47, after hitting $3.64 during intraday trading, but still well off of its 52-wk high of $12.30. A sell side analyst named Kyle Bauser, Ph.D. at Colliers Securities recently published his Buy Rating Report with a $6 Price Target. On Dec. 16,
INVO Bioscience, Inc. announced
that it has entered into an expanded agreement with Ovoclinic, a group of clinics specialized in assisted reproductive treatments with four locations across Spain (Madrid, Marbella, Málaga, Ceuta) and collaborating centers around Europe, to accelerate adoption of INVOcell within their markets. The agreement includes the expanded adoption of INVOcell within Ovoclinic locations as well as establishing an INVO Center of Excellence for future training for the European Market. Cristina Gonzalez, embryologist and Quality Manager of Ovoclinic laboratories stated,
"After several successful trials implementing the exciting INVOcell fertility treatment, Ovoclinic aims to provide its patients with this effective alternative to the processes used so far in Spain in the field of reproductive medicine. We consider INVOcell to be an effective method of natural reproduction that involves the future mother at the very first moment of the process. We are confident that this innovative treatment will help many patients to choose this new alternative solution to achieve their dream of forming a family by actively participating in the reproductive process."
According to the World Bank, Spain, with total population of approximately 47 million people, has one of the lowest fertility rates in Europe, affecting approximately 15% of the population, or one in seven couples of reproductive ages. According to reports, in 2010, there were approximately one million couples requesting assisted reproductive treatment, however only 22% received one or more assisted reproductive treatment cycles. The average waiting time for an IUI or IVF cycle in a public health facility was 339 days. Ovoclinic reports that they maintain the best technical and human resources to deal with all kinds of infertility problems along with the simplest and most natural treatments to the most complex and advanced techniques pioneered in Spain. Ovoclinic also works in partnership with Ovobank, the first European Donor Egg Bank in Europe.
Shares of Hecla Mining Company (NYSE: HL), the largest silver producer in the United States closed at $4.87, -4.13%.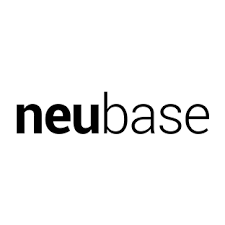 Shares of NeuBase Therapeutics (NASDAQ: NBSE),  a biotechnology platform company Drugging the Genome™ to address disease at the base level using a new class of precision genetic medicines, closed at $2.50, -3.85% after hitting an intraday high of $2.6498. The 52-wk range is $2.52-$12.89. After the close today, Neubase announced the appointment of Eric J. Ende, M.D., to the Company's Board of Directors. Dr. Ende has nearly 25 years of experience in advising biotechnology and life sciences companies to optimize corporate strategy and structure and maximize shareholder value. "Dr. Ende has the experience and perspective to recognize the opportunity ahead for NeuBase as it plans for the clinical development of its potentially transformational new class of precision genetic medicines," said Dietrich A. Stephan, Ph.D., Founder, CEO and Chairman of NeuBase. "We welcome Dr. Ende's strategic insight as we begin to scale our therapeutic candidate pipeline from our new precision genetic medicines platform technology. In addition to his broad experience, he also shares in our Company's goal of helping millions of patients with both common and rare conditions that currently have limited or no treatment options." "I believe NeuBase has a game-changing technology that overcomes the limitations of early precision genetic medicines by delivering mutation selectivity, repeat dosing, and systemic administration in a modular precision medicine platform with the potential to efficiently scale to treat a wide variety of diseases that are currently undruggable," said Dr. Ende. "I look forward to working closely with NeuBase's leadership team and Board of Directors to elevate strategy and operations in order to create exceptional value for patients and shareholders." Dr. Ende currently is the President of Ende BioMedical Consulting Group. He also is a member of the Board of Directors of Matinas BioPharma, where he is the Chairman of the Compensation Committee and serves on the Audit and the Nomination & Governance Committees, and of Avadel plc, where he is the Chairman of the Nomination & Corporate Governance Committee and serves on the Audit and Compensation Committees. Dr. Ende previously served on the Board of Directors of Progenics (acquired by Lantheus Holdings) and Genzyme (acquired by Sanofi-Aventis for $20 billion). During his time on Genzyme's Board of Directors, Dr. Ende was a member of the Audit and Risk Management Committees. Prior to Genzyme, Dr. Ende was a biotechnology analyst, previously serving at Merrill Lynch, BofA Securities, and Lehman Brothers. Dr. Ende received an M.B.A. from NYU Stern School of Business, an M.D. from the Icahn School of Medicine at Mount Sinai, and a B.S. in biology and psychology from Emory University.
Shares of Bed Bath & Beyond (BBBY) closed trading today at $14.43, +7.97% after reporting a miss on their financial results for the third quarter of fiscal 2021 ended November 27, 2021. Mark Tritton, Bed Bath & Beyond's President and CEO said, "During a quarter where our sales momentum was not where we wanted it to be with sales of $1.9 billion and a 7% comp decline, improved momentum in November and strong gross margins demonstrated progress in our transformation. After our previously announced slower start to sales in September and October, we drove a change in trends by November with our comp decline improving, particularly in stores. However, overall sales were pressured despite customer demand due to the lack of availability with replenishment inventory and supply chain stresses that had an estimated $100 million, or mid-single digit, impact on the quarter and an even higher impact in December. Nevertheless, our customer acquisition strategy for the Bed Bath banner is gaining traction as evidenced by our Beyond+ loyalty program, which grew by nearly half a million members after one of our largest new subscriber quarters. Our buybuy BABY banner continues to deliver double-digit growth and we are on track to achieve approximately $1.3 billion in sales in this first year of transformation – ahead of our investor day goals – all while improving profitability and market share."
Shares of Beyond Meat, Inc. (NASDAQ: BYND), a leader in plant-based meat, closed today at $67.06, +14.65%. On January 5, Kentucky Fried Chicken and Beyond Meat® announced that they are kicking off the new year with a Kentucky Fried Miracle as the highly-anticipated plant-based* Beyond Fried Chicken makes its nationwide debut. Beginning Monday, January 10, KFC restaurants across the U.S. will offer Beyond Fried Chicken for a limited time, while supplies last.
Shares of meme stock GameStop (GME) closed trading today at $131.03 up +1.28%, but legged up to $160.50, +22.49% in the aftermarkets as a report surfaced stating that GameStop will "share technology and co-invest in the development of games that use blockchain and NFT technology, as well as other NFT-related projects."
Economic Reports
On Monday, the total construction spending report showed a .4%M/M rise in November, while the total private construction report showed a .6% M/M rise,  & total public construction spending fell by .2%. Now on Y/Y basis the total construction spending was confirmed to be up 9.3%. The preliminary December IHS Markit Manufacturing PMI report confirmed a drop to 57.7.
On Tuesday, the December ISM Manufacturing Index report came in +2 points lower at 58.7% vs. the month before, but still well above the Mendoza line and continuing to confirm expansion. It also showed that some prices softened as a supply chain conditions somewhat improved, but the inflation jury is still out. The Job openings report also confirmed a drop to 10.562M in November. We also realized that a record 4.5M individuals were confirmed to have quit their jobs in November and approx. 1.37M people were laid off or fired over the course of the same month.
On Wednesday, the ADP report estimated that 807k jobs were added to private sector payrolls in December, the preliminary IHS Markit Services PMI report for December fell to 57.6, the weekly MBA Mortgage Applications Index dropped 5.6%,  & the crude oil inventories report confirmed a weekly draw of 2.144M barrels.
On Thursday, the Initial claims report for the week ending January 1 rose by 7k to 207k, while the continuing claims report for the week ending December 25 showed a rise by 36k to 1.754M. The ISM Non-Manufacturing Index report for December was confirmed to have dropped to 62% still well above the expansion line. The trade deficit for November moved wide to $80.2B. The Factory orders for manufactured goods report confirmed a rise by 1.6% month/month in November, while shipments of manufactured goods rose .7%.
Investing & Inspiration
"There is little that can withstand a man who can conquer himself." – Louis XIV
"In tennis, you strike a ball just after the rebound for the fastest return. It's the same with investment." – Masayoshi Son
"A camel makes an elephant feel like a jet plane." – Jackie Kennedy
"The advance of technology is based on making it fit in so that you don't really even notice it, so it's part of everyday life." – Bill Gates
"Success depends upon previous preparation, and without such preparation there is sure to be failure." – Confucius, Chinese 
"Coming together is a beginning; keeping together is progress; working together is success." – Edward Everett Hale
"Never do anything against conscience even if the state demands it."– Albert Einstein
"Education is not only a ladder of opportunity, but it is also an investment in our future." – Ed Markey
"The true measure of a man is how he treats someone who can do him absolutely no good." – Samuel Johnson
"In my view, the biggest investment risk is not the volatility of prices, but whether you will suffer a permanent loss of capital. Not only is the mere drop in stock prices not risk, but it is an opportunity. Where else do you look for cheap stocks?" – Li Lu
"A successful society is characterized by a rising living standard for its population, increasing investment in factories and basic infrastructure, and the generation of additional surplus, which is invested in generating new discoveries in science and technology." – Robert Trout
"The best preparation for tomorrow is doing your best today." – H. Jackson Brown, Jr.
"Friendship marks a life even more deeply than love. Love risks degenerating into obsession, friendship is never anything but sharing." – Elie Wiesel
"Investing in women's lives is an investment in sustainable development, in human rights, in future generations – and consequently in our own long-term national interests." – Liya Kebede
"Success isn't measured by money or power or social rank. Success is measured by your discipline and inner peace." – Mike Ditka
"No matter how many goals you have achieved, you must set your sights on a higher one." – Jessica Savitch 
"Start where you are. Use what you have. Do what you can."– Arthur Ashe
"The secret of getting ahead is getting started." – Mark Twain
"The amount of work and the amount of both physical and emotional investment it takes to get to the top." – Drew Bledsoe
| Symbol | Name | Last Price | Change | % Change |
| --- | --- | --- | --- | --- |
| | | | | |
| | | | | |
| | | | | |
| | | | | |
| | | | | |
Videos