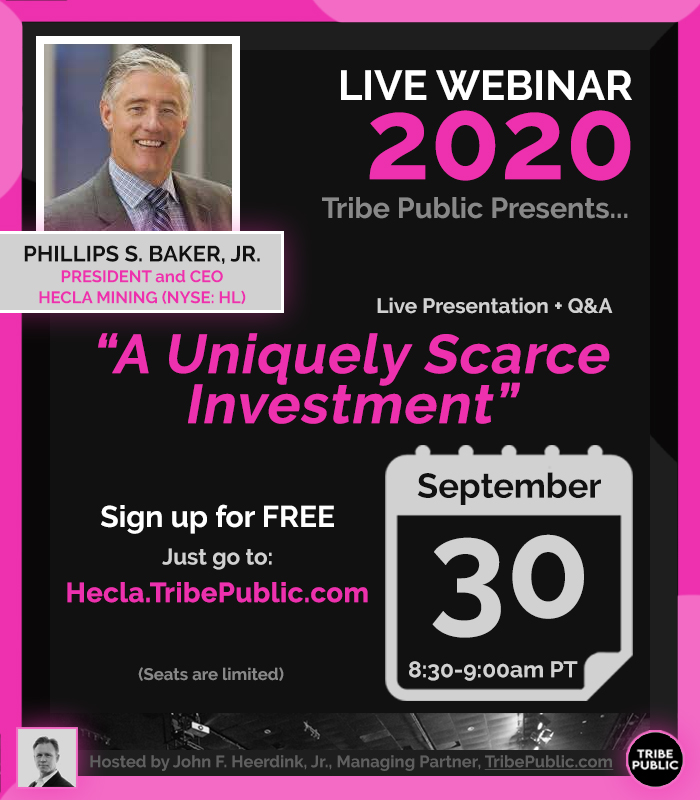 Today, Wednesday, September 30th Tribe Public, website www.tribepublic.com, will host a FREE Webinar Presentation and Q&A Event with Mining Industry Expert Phillips S. Baker, Jr., President, and CEO of Hecla Mining Company (NYSE: HL) titled "Hecla- A Uniquely Scare Investment."
The event begins at 8:30 am PT / 11:30 am ET sharp today. You can still register to receive the login details at Hecla.TribePublic.com.
If you log in at ZOOM now or at least a few minutes prior to the event, then you will be in a good position in order to not miss any of Mr. Baker's brief and exciting 20-minute presentation titled "A Uniquely Scarce Investment."  
You may submit your questions for Hecla's CEO prior to the event at research@tribepublic.com or during the event via the chat feature at zoom.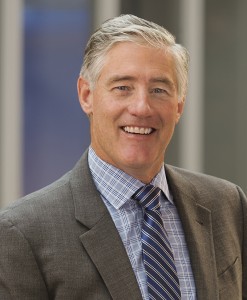 Phillips S. Baker, Jr., (pictured above) has been Hecla Mining Company's Chief Executive Officer since May 2003 and has served as the President & a Director since November 2001. He served as Hecla's Chief Financial Officer from May 2001 to June 2003; Chief Operating Officer from November 2001 to May 2003; and Vice President from May 2001 to November 2001. He has also served as a Director of QEP Resources, Inc. (a leading independent natural gas and oil exploration and production company), since May 2010, as well as serving as a Director for Questar Corporation (a Western U.S. natural gas-focused exploration and production, interstate pipeline and local distribution company) from February 2004 through June 2010. Hecla Mining Company (NYSE: HL) is a leading, low-cost silver producer with operating silver mines in Alaska (Greens Creek), Idaho (Lucky Friday), and Mexico (San Sebastian) and is a growing gold producer with operating mines in Quebec, Canada (Casa Berardi) and Nevada (Fire Creek). Hecla's philosophy is to operate mines safely by promoting a deeply-rooted value-based culture, leveraging mining skills developed over the company's long history, and by innovating new practices. In addition to its diversified silver and gold operating and cash-flow generating base, Hecla has a number of exploration properties and pre-development projects in eight world-class silver and gold mining districts in North America. With an active exploration and development program, the company has consistently grown its reserve base for future production, with 2020 reserves totaling 212 million ounces of silver and 2.7 million ounces of gold reserves, calculated using some of the lowest price assumptions in the industry. Established in 1891, Hecla is headquartered in Coeur d'Alene, Idaho, and has a sister office in Vancouver, B.C. The company's common stock has been traded on the New York Stock Exchange for over 50 years.
Mr. Baker will be also available for a ~5-10 minute Q&A session after the presentation. To be efficient please consider sending us your questions for the speaker prior to the event at research@tribepublic.com or during the event via the ZOOM chat feature.

Please take a moment to let other friends know about this event and request that they join too.
Join Tribe Public
Tribe Public's complimentary worldwide webinar and meeting efficient 30-minute events seek to provide direct corporate access to leaders of companies in industries that Tribe's members ('The Tribe") care about. The events typically consist of a quick introduction to management where they share their background, a 15-minute presentation, and then a brief Q&A session.  Tribe events are hosted by Advisor, Investor, Entrepreneur John F. Heerdink, Jr., the Managing Partner of Tribe Public LLC.  Tribe members include Institutions, Family Offices, Registered Investment Advisors, Brokers, and Accredited Investors across the world including members from the USA, Netherlands, Canada, Singapore, France, Israel, Belgium, Sweden, United Kingdom, etc. Join The Tribe Today at www.tribepubic.com. The Tribe submits their interest via The "Wish List" process at Tribe Public's website: www.tribepublic.com. DISCLAIMER: https://www.tribepublic.com/disclaimers
Post View Count : 1391