Worldwide, the fertility treatment market is severely underserved. Currently, only 1% to 2% of the estimated 150 million infertile couples worldwide are treated, with the primary prohibiting factor being cost and access to treatment. With this in mind, the business, art, & the science of getting pregnant is receiving greater focus from venture capitalists, private equity firms, mutual funds, and family offices. This interest is evidenced in the increasing number of startups innovating in the fertility space in recent years.
INVO Bioscience, Inc. (IVOB) is a medical device company focused on creating alternative treatments for patients diagnosed with infertility and developers of INVOcell®, the world's only in vivo FDA cleared Intravaginal Culture System. The INVOcell system (pictured above) is a novel fertility treatment that uses a woman's own body as a natural incubator for the incubation of eggs and sperm during fertilization and early embryo development. IVOB believes this process is cost-effective and has shown comparable pregnancy rates to IVF and may have the ability to significantly increase patient access. The Company further believes the INVOcell system can eliminate the need for costly infrastructure and overhead associated with IVF, one of the primary hindering factors to fertility treatment in many parts of the world. The Company's unique in vivo fertilization process also has the potential to serve as a powerful motivator for many patients with religious and/or cultural concerns.
In a recent article, Dr. Russell Foulk of the Nevada Center for Reproductive Medicine and a board-certified reproductive endocrinologist and associate clinical professor at both the University of Washington School of Medicine and the University of Nevada, Reno, School of Medicine, was interviewed about his excitement about introducing INVO Bioscience's INVOcell system in RENO. Foulk has started fertility treatment centers in four states, including centers in Northern and Southern Nevada—where he provides in vitro fertilization (IVF) services and other fertility treatments. Note that the article states that the INVOcell system "bypasses the traditional five-day lab time and "lessens the degree of intervention" that's necessary to get a woman pregnant, it may also be more cost-effective than traditional IVF—which can be expensive for each round of treatment."  Please read the complete article by clicking here.
"What's remarkable is that the embryo quality you see from the Invocell often is better than what you'd see if it was grown in vitro, in artificial conditions—which kind of makes sense, right? We're never going to be as good as mother nature" stated Dr. Foulk.
To learn more about INVO Bioscience (IVOB) and to track its progress daily, please visit the Vista Partners INVO Bioscience Dedicated Research Page by clicking here.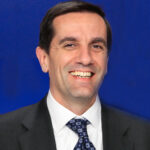 To listen to INVO Bioscience's CEO Steve Shum (pictured above) speak about their latest progress please click here.
Post View Count : 123422