Pittsburgh-based NeuBase Therapeutics (NASDAQ: NBSE) is a biotech firm that is accelerating the genetic revolution using a new class of synthetic medicines. NeuBase's designer PATrOL™ therapies are centered around its proprietary drug scaffold to address genetic diseases at the source by combining the highly targeted approach of traditional genetic therapies with the broad organ distribution capabilities of small molecules. With an initial focus on silencing disease-causing mutations in debilitating neurological, neuromuscular and oncologic disorders, NeuBase is committed to redefining medicine for the millions of patients with both common and rare conditions. Initially, NeuBase is moving forward with developing treatment candidates in Huntington's Disease (HD) and Myotonic Dystrophy (DM1.) To learn more, please visit www.neubasetherapeutics.com.
Today, NeuBase announced the addition of Peter Nielsen, Ph.D. to its scientific advisory board. Dr. Nielsen, the primary inventor of peptide nucleic acid (PNA) technology, brings extensive experience in genetic medicine to NeuBase as the Company optimizes its PATrOL™ therapies and moves them towards the clinic. Dr. Peter Nielsen is a leading expert in gene targeting, RNA interference and chemical replication and translation and was one of the inventors of PNAs in 1991. He is currently a professor at the University of Copenhagen where his lab focuses on PNAs in regard to drug discovery, gene targeting, antisense principles, cellular and in vivo delivery and administration of biopharmaceuticals. He is the co-author of more than 400 scientific papers and reviews as well as over 20 patents and patent applications, and he serves on the advisory board of four scientific journals. In addition to his esteemed academic career, Dr. Nielsen is the co-founder of two biotech companies in Denmark and is a member of EMBO and the Danish Academy of Technical Sciences. He received his Ph.D. in 1980 from University of Copenhagen.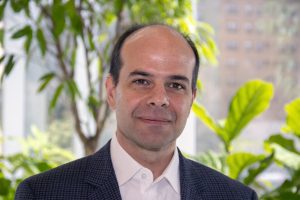 "We are honored to welcome Dr. Nielsen, a transformational leader in the field of genetics and genomic technologies, to the NeuBase scientific advisory board. His unique perspective gained over his distinctive career will undoubtedly provide valuable insight and complement our team of renowned experts. We believe that our new class of synthetic medicines, which relies on the elegant scaffold chemistry invented by Dr. Nielsen, has the potential to change the treatment landscape for many diseases, both common and rare. We look forward to leveraging his unparalleled knowledge as we continue to advance our PATrOL platform under the guidance of our outstanding group of scientific advisors." – Dietrich A. Stephan, Ph.D., chief executive officer of NeuBase (pictured above).
Dr. Nielsen added, "NeuBase's PNA technology is among the first to be advanced through development for therapeutic applications, and I am thrilled to be part of the revolution the Company is leading. I look forward to working with the team and lending my guidance as NeuBase progresses its first-in-class medicines."
NeuBase Financial Snapshot
NBSE recently reported its financial results for the three and nine-month periods ended June 30, 2020. Dietrich A. Stephan, Ph.D., chief executive officer of NeuBase stated, "We are pleased with the continued execution of our development programs during 2020. This includes the announcement in late-March of compelling data that firmly validates our platform as a viable fully synthetic approach to genetic medicine. Notably, these data confirm that our therapies penetrate into the brain when administered systemically – overcoming one of the grand challenges of drug delivery. PATrOL-enabled compounds can also access tissues throughout the entire body, opening our platform up to unexplored indications that have not previously been accessible by genetic medicine technologies. These positive pharmacokinetic and pharmacodynamic data-position our unique technology to output a vast pipeline of therapeutics to resolve innumerable human diseases. We anticipate presenting additional new data with respect to our ongoing progress in the fourth calendar quarter of this year. A key objective for our company shortly after the March data announcement was to strengthen our balance sheet in order to fully advance our strategies in HD and DM1, and build out our pipeline. This was accomplished in April with the closing of our oversubscribed capital raise of approximately $33.3 million in net proceeds that was led by fundamental healthcare investors and significantly increased our institutional shareholder base. We expect this to support our R&D and general corporate expenses into the second calendar quarter of 2022."
NeuBase Stock
NeuBase Therapeutics trades under the symbol "NBSE" on the Nasdaq and is current trading at $9.40.share up 10.46%. The 52-week range is $4.15- $11.78.
Join Tribe Public – NeuBase Webinar Event
Dr. Stephan, CEO of NeuBase Therapeutics, Inc. (NASDAQ: NBSE) will be delivering a presentation titled "Manufacturing Heat-Seeking Missiles Against Misbehaving Genes" on October 28th at 8:30am pacific / 11:30am eastern and be available for a Q&A session. Register for FREE today at NeuBase.TribePublic.com.

Dietrich A. Stephan, Ph.D. is an industry veteran who is considered one of the fathers of the field of precision medicine, having trained with the leadership of the Human Genome Project at the NIH and then going on to lead discovery research at the Translational Genomics Research Institute and serve as professor and chairman of the Department of Human Genetics at the University of Pittsburgh. Stephan has identified the molecular basis of dozens of genetic diseases and published extensively in journals such as Science, the New England Journal of Medicine, Nature Genetics, PNAS, and Cell. In parallel, Dr. Stephan has founded or co-founded 14 biotechnology companies and has advised an additional 12 companies. These companies are backed by top-tier investors such as Sequoia Capital, KPCB, Thiel Capital, and Khosla Ventures as well as corporate partners such as Life Technologies, Pfizer, and Mayo Clinic. Dr. Stephan received his Ph.D. from the University of Pittsburgh and his B.S. from Carnegie Mellon University.
Post View Count : 7995