Pittsburgh-based NeuBase (NASDAQ: NBSE) has developed a modular antisense peptide nucleic acid (PNA) platform with the capability to address rare genetic disease caused by mutant proteins with a single, cohesive approach. NeuBase believes that it has improved gene silencing therapies to include the advantages of synthetic approaches with the precision of antisense technologies. NeuBase announced in December 2019 that one of its core technologies, the Janus Base, has been recognized by The Scientist as a Top 10 Innovation of 2019. The bi-specific Janus nucleobases uniquely allow NeuBase to develop short oligonucleotide drugs targeting rare genetic diseases that can reach and bind double helixes in the human genome and RNA secondary structures. The technology's inventor and NeuBase's chief scientific officer, Danith Ly, Ph.D., developed the Janus Base in his lab at Carnegie Mellon University.
After the close of trading on Thursday, March 26th, Neubase announced its financial results for the three month period ended December 31, 2019. Dietrich A. Stephan, Ph.D., Chief Executive Officer of NeuBase (pictured) stated,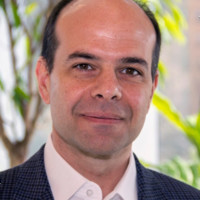 "We continue to advance the development of our neurological and neuromuscular programs, which have not been significantly impacted by the COVID-19 pandemic. Next week (week of March 30th), we plan to announce the results from a pharmacokinetic study in non-human primates, as well as pharmacodynamic data in patient-derived cell lines. We also expect to receive additional data from in vivo mouse pharmacokinetic studies later in the second calendar quarter of 2020 and present those results in a peer-reviewed publication or at a scientific conference in the second half of the calendar year. Recent FDA approvals in the RNA therapeutics industry continue to confirm the broad utility of the gene silencing approach, with neutral backbone ASOs now representing a significant portion of approved RNA-based drugs. We believe that the differentiated features of our PATrOL™ platform bode well for our participation in the industry as we help fulfill the promise of scalable drug development using genetic sequence-based drugs. As previously announced, we plan to initially focus on Huntington's disease and myotonic dystrophy to address the critical unmet needs of the patients impacted by these diseases, and then expand our development pipeline into other high-value disease targets and cancer." 
Dr. Dietrich Stephan is an industry veteran who is considered one of the fathers of the field of precision medicine, having trained with the leadership of the Human Genome Project at the NIH and then going on to lead discovery research at the Translational Genomics Research Institute and serve as professor and chairman of the Department of Human Genetics at the University of Pittsburgh. Stephan has identified the molecular basis of dozens of genetic diseases and published extensively in journals such as Science, the New England Journal of Medicine, Nature Genetics, PNAS, and Cell. In parallel, Dr. Stephan has founded or co-founded 14 biotechnology companies and has advised an additional 12 companies. These companies are backed by top-tier investors such as Sequoia Capital, KPCB, Thiel Capital, and Khosla Ventures as well as corporate partners such as Life Technologies, Pfizer, and Mayo Clinic. Dr. Stephan received his Ph.D. from the University of Pittsburgh and his BS from Carnegie Mellon University.
In Thursday's release Neubase offered their First Fiscal Quarter of 2020 and Recent Operating Highlights & their Financial Results for the Fiscal Quarter Ended December 31, 2019, as follows: 
U.S. Patent and Trademark Office issued NeuBase a foundational patent covering proprietary DNA and RNA binding technology, which enables PATrOL™-based therapies to target the secondary structures of DNA and RNA
Cancer biologist and RNA therapeutics pioneer, Steven Dowdy, Ph.D., appointed to the NeuBase Scientific Advisory Board
For the three month period ended December 31, 2019, the Company reported a net loss of approximately $4.5 million, or a net loss of $0.26 per share, compared with a net loss of approximately $1.5 million, or a net loss of $0.25 per share, for the same period last year.
For the three month period ended December 31, 2019, total operating expenses were approximately $3.8 million, consisting of approximately $2.6 million in general and administrative expenses and $1.2 million of research and development expenses. This compares with total operating expenses of $1.5 million for the same period last year, which was comprised of approximately $0.4 million in general and administrative expenses and $1.1 million in research and development and research and development-licenses acquired expenses.
At December 31, 2019, the Company had cash and cash equivalents of approximately $7.7 million, compared with cash and cash equivalents of approximately $10.3 million at September 30, 2019. The Company believes that its current cash balance will provide sufficient capital to fund operations through the end of the fiscal year 2020.
Shares of NBSE are currently trading up +11.09% at $$6.51/share today. Investment banks BTIG, HCW, Oppenheimer & Guggenheim have analyst coverage with BUY ratings that include a price target that ranges in a $13-$15/share target price range. This morning BTIG's analyst Thomas Shrader, Ph.D., CFA reiterated his BUY recommendation with a $15/share target price and offered the following upcoming potential catalysts in his report:
NT0100 / NT0200 NHP PK data and PD data (human cells) – week of 3/30/20
NT0100 / NT0200 NHP PK data and PD data (human cells) – 2Q20
NT0100 / NT0200 IND filing – 1H21
NT0100 / NT0200 PT first patient enrolled 2H21
  To learn more please visit Neubase Therapeutics' website: https://www.neubasetherapeutics.com
Post View Count : 13137