Seattle-based Atossa Therapeutics, Inc. (Nasdaq: ATOS), a clinical-stage biopharmaceutical company seeking to discover and develop innovative medicines in areas of significant unmet medical need with a current focus on breast cancer and COVID-19, announced on Thursday, May 28th that it has begun the development of a second COVID-19 program using its proprietary drug candidate AT-301, to be administered by nasal spray. AT-301 is Atossa's proprietary formula intended for nasal administration in patients immediately following a diagnosis of COVID-19 but who have not yet exhibited symptoms severe enough to require hospitalization. It is intended for at-home use to proactively reduce symptoms of COVID-19 and to slow the infection rate so that a person's immune system can more effectively fight SARS-CoV-2 (coronavirus). Atossa also intends to conduct testing to determine whether AT-301 can be used as a prophylaxis to prevent or mitigate SARS-CoV-2, with the goal that it could become a "bridge to the vaccine" and be useful in the next phase of the coronavirus pandemic.
"In April we launched our AT-H201 COVID-19 HOPE program for the most severely ill COVID-19 patients. By contrast, our new AT-301 nasal spray program is being developed for the relatively healthier COVID-19 patients who have not been hospitalized. We are developing AT-301 with a nasal spray delivery mechanism because many COVID-19 patients are infected via the nasal passage. The mechanism of action is intended to inhibit essential human host proteases, which are found in abundance in the nasal mucosa, from activating the SARS-CoV-2 Spike Protein, the known first and obligatory step that must be taken before the virus can enter the body. This may eventually be useful as a prophylactic, to be used before leaving the home. In that setting, it would be intended to create a barrier inside the nose to prevent virus entry – sort of a short-term vaccine-like treatment that could be helpful before a true vaccine is available. Our goal with the two COVID-19 programs is to ultimately commercialize therapies for patients on both ends of the spectrum – from the healthier patients who will be treated at home and the sicker patients who require mechanical ventilation in the hospital," stated Steven Quay, M.D., Ph.D., President, and CEO of Atossa.
Atossa has retained Summit Biosciences, Inc., a pharmaceutical company with a proven track record in nasal spray medicines, to develop and produce a clinical supply of pre-filled nasal spray products in multi-dose devices containing AT-301 with the goal of commencing initial human clinical trials in the third quarter 2020. Founded in 2009, Summit Biosciences, Inc. of Lexington, KY (www.summitbiosciences.com) is a privately-held, specialized pharmaceutical company focused on developing, manufacturing, and commercializing generic and innovative nasal spray medicines. It collaborates on the development of products with its clients and manufactures them at an industrial scale primarily for commercialization in the US and Europe.
---
NEXT STEPS
The next steps with this program include the design and manufacturing of the clinical trial materials and the active pharmaceutical ingredients in AT-301 followed by adequate and well-controlled studies to demonstrate safety and efficacy. These studies must be successfully completed and regulatory approvals must be obtained before AT-301 may be commercialized. Atossa has filed provisional patent applications on AT-301 to treat patients diagnosed with, or to prevent, COVID-19 via nasal spray and intends to apply to the FDA as soon as possible so that human clinical trials may be commenced in the third quarter 2020.
---
WORLD-CLASS INVENTOR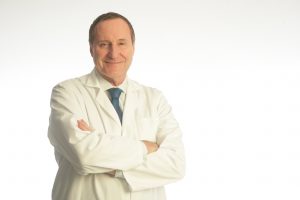 AT-301 was invented by Dr. Steven Quay. Dr. Quay (pictured above ) received his M.D., M.A., and Ph.D. from The University of Michigan was a postdoctoral fellow at MIT with Nobel Laureate H. Gobind Khorana, a resident at the Harvard-Massachusetts General Hospital, and was on the faculty of Stanford University School of Medicine for almost a decade. He has over 300 published contributions to medicine which have been cited over 9,700 times. Dr. Quay has founded six pharmaceutical companies, invented seven FDA-approved medicines, and holds 87 U.S. patents.
---
SHARES OF ATOSSA THERAPEUTICS
Atossa's shares have been on an upward trend lately after touching a low of $.76/share during the recent market selloff. On Thursday, shares spiked to an intraday high of $2.55/ share with 1.54 million shares of the trading volume. The 52-week high is $3.25.
ANALYST BUY RATING
Maxim Group's Sell-side Biotech Analyst Jason McCarthy issued an update report today on Atossa Therapeutics, Inc. (NASDAQ: ATOS) titled "Expanding into the COVID-19 Therapeutics Race with a Differentiated Approach – Reiterate Buy." He maintains a Buy Rating with a $4/share 12-month price target. View Maxim's report here.
---
On May 20, 2020 Atossa Therapeutics, Inc. (Nasdaq: ATOS) also announced the successful results from in vitro testing of AT-H201, Atossa's 1st of 2 proprietary COVID-19 drug candidates. The preliminary study results show that AT-H201 inhibits SARS-CoV-2 infectivity of VERO cells in a laboratory culture, which are the standard cell types being used to study the infectivity of the coronavirus. SARS-CoV-2, sometimes called the coronavirus, is the COVID-19 infectious agent. This is the first submicromolar inhibitor of SARS-CoV-2 identified to date in published literature, meaning that a relatively small amount of the drug is necessary to result in an anti-viral effect. The testing was conducted on behalf of Atossa by a leading academic research institute. Atossa plans to publish a manuscript of these test results. Successful in vitro tests do not guarantee similar results from in vivo studies, including in human clinical trials. Additional safety and efficacy studies must be successfully completed and regulatory approvals must be obtained before AT-H201 may be commercialized.
AT-H201 is reportedly designed to act as a "chemical vaccine" by binding to the surface of the coronavirus and inhibiting the ability of the virus to enter a cell ("viral infectivity"). Significant findings from the testing include:
AT-H201 components inhibited SARS-CoV-2 from infecting VERO cells in a laboratory culture.
This is the first submicromolar inhibitor of SARS-CoV-2 identified to date in published literature, meaning that a relatively small amount of the drug is necessary to result in an anti-viral effect.
Testing was also performed on Gilead Sciences' (GILD) remdesivir, an anti-viral medication being studied by others for use in COVID-19 patients, and the generic anti-malaria drug hydroxychloroquine, which is also being studied by others in COVID-19 patients. In these laboratory tests, the components of AT-H201 were found to be at
least four-times more potent than remdesivir and at least twenty-times more potent than hydroxychloroquine
. Potency was measured by microscopic examination of the cytopathic effect caused by SARS-CoV-2 in VERO cells.
---
STAY INFORMED! STAY COMPETITIVE!
Receive Vista Partner's FREE updates to your email box by signing up in seconds here!
Please visit the Atossa Therapeutics (ATOS) page at Vista Partners to keep up with their progress and to learn more daily about their work and developments.

Post View Count : 12159