According to a New York Times database, the U.S. COVID-19 pandemic has rapidly increased in 41 states over the past 2 weeks and reached 3.5M total infections as of Wednesday. 
Along with this growing concern and working to towards a treatment for COVID-19, Seattle-based Atossa Therapeutics, Inc. (Nasdaq: ATOS), a clinical-stage biopharmaceutical company seeking to discover and develop innovative medicines in areas of significant unmet medical need with a current focus on breast cancer and COVID-19, announced that it had successful results from in vitro testing of AT-301, Atossa's proprietary COVID-19 nasal spray drug candidate. The preliminary study results showed that AT-301 inhibits SARS-CoV-2 infectivity of VERO cells in a laboratory culture, which is the standard disease model used for the initial screening of COVID-19 drug candidates. 
AT-301 is being developed with a nasal spray delivery mechanism because many COVID-19 patients are infected via the nasal passage. Collectively, the components of AT-301 are believed to help maintain a protective mucosal like layer within the nasal cavity with both anti-viral properties and protective mucosal like barrier that may lead to lower infectivity and reduced symptoms in COVID-19 patients due to their interference with the spike protein of the virus in the nasal cavity and upper respiratory tract.  Atossa's nasal spray formulation AT-301 is being designed to contain ingredients that can potentially block SARS-CoV-2 viral entry gene proteins in nasal epithelial cells by interfering with spike protein activation by host proteases, by masking receptor binding domains (RBD) via electrostatic mechanisms, and by providing a generalized mucoadhesive epithelial barrier.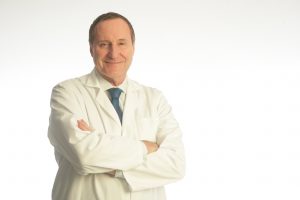 "The AT-301 formulation was designed to work like a mucosal vaccine, blocking entry of the virus into the cells to begin with and thus, hopefully, preventing a COVID-19 infection. With the finding that a particular cell found in the nasal cavity — the goblet cell — has among the highest expressions of viral entry genes1, the concept of targeting the nasal cavity to block early SARS-CoV-2 infection made a lot of sense. And having invented two FDA-approved nasal spray products before founding Atossa, I am gratified to be able to bring this prior clinical and regulatory experience to bear on this devastating pandemic. We look forward to commencing a Phase 1 clinical study this quarter and reporting progress on this clinical development program," stated Dr. Steven Quay, Atossa's President, and Chief Executive Officer.
Dr. Steven Quay. Dr. Quay (pictured above ) received his M.D., M.A., and Ph.D. from The University of Michigan was a postdoctoral fellow at MIT with Nobel Laureate H. Gobind Khorana, a resident at the Harvard-Massachusetts General Hospital, and was on the faculty of Stanford University School of Medicine for almost a decade. He has over 300 published contributions to medicine which have been cited over 9,700 times. Dr. Quay has founded six pharmaceutical companies, invented seven FDA-approved medicines, and holds 87 U.S. patents.
The purpose of these experiments was to mimic the virus's entry process in vitro by examining the infectivity of VERO monkey kidney cells by authentic SARS-CoV-2 virus particles. Although VERO cells are non-mucosal epithelial cells and therefore are more sensitive to cytotoxicity than would be expected of mucosal cells, they provide an established COVID-19 disease model system to judge in vitro efficacy.
Serial dilutions of the AT-301 formulation were performed from 1 to 4 to 1 to 4096. SARS-CoV-2 was incubated in these serial dilutions for 1 hour at 37° C and then the mixture was added to the cells for one hour at 37° C. The mixture was then removed and fresh media added at 37° C and incubated overnight. The cells were then fixed with 10% formalin overnight and then the cells were permeabolized with 0.5% Triton X-100. H anti-SARS-2 N protein, 1 µg/mL, was added at room temperature for 1 hour. Anti-human-IgG-488 (green) tagged antibody was added at a 1:1000 dilution at room temperature for 1 hour. This allowed visualization of the production of the N protein inside cells as a green signal, the evidence that an infection had occurred.
The experiments show that serial dilutions of the AT-301 nasal formulation, beginning with a 1 to 4 dilution and going to a 1 to 16 dilution were able to prevent N protein expression. Beginning at a 1 to 32 dilution the virus was able to infect the cells. There was minimal toxicity noted.
The in vitro laboratory testing was conducted under contract at a leading academic research center that specializes in infectious disease research. Successful in vitro tests do not guarantee similar results from in vivo studies, including in human clinical trials. Additional safety and efficacy studies must be successfully completed and regulatory approvals must be obtained before AT-301 may be commercialized. Atossa has filed provisional patent applications with the U.S. Patent and Trademark Office directed to the formulation, manufacturing, and methods of use of AT-301.
---
Atossa has retained Summit Biosciences, Inc., a pharmaceutical company with a proven track record in nasal spray medicines, to develop and produce a clinical supply of pre-filled nasal spray products in multi-dose devices containing AT-301 with the goal of commencing initial human clinical trials in the third quarter 2020. Founded in 2009, Summit Biosciences, Inc. of Lexington, KY (www.summitbiosciences.com) is a privately-held, a specialized pharmaceutical company focused on developing, manufacturing, and commercializing generic and innovative nasal spray medicines. It collaborates on the development of products with its clients and manufactures them at an industrial scale primarily for commercialization in the US and Europe.
---

SHARES OF ATOSSA THERAPEUTICS
Atossa's shares have been on an upward trend this year after touching a low of $.76/share during the market selloff in Q1 2020 as they spiked to a 52-week high of $4.69/share on Wednesday before closing at $3.69/share up 10.92%.
Please visit the Atossa Therapeutics (ATOS) page at Vista Partners to keep up with their progress and to learn more daily about their work and developments.
STAY INFORMED! STAY COMPETITIVE!
Receive Vista Partner's FREE updates to your email box by signing up in seconds here!
---
Are you terrified by the state of the world right now? Is the mere act of grocery shopping suddenly a source of anxiety? Are you constantly scouring the Internet seeking information on how to keep you and your family safe, but you can't find anything conclusive and clear? If so, I have great news for you. Currently, the focus in conversations about coronavirus mitigation is on finding a vaccine. But, what if a vaccine isn't going to be the "cure all" that people are counting on? Order your copy now!
Post View Count : 9296