MBD is an emerging public health issue affecting more than 10 million women in the United States. Studies conducted by others have shown that MBD increases the risk of developing breast cancer, and reducing MBD can reduce the incidence of breast cancer.
Today Atossa Therapeutics, Inc. (Nasdaq: ATOS) announced that it has filed with the Swedish Medical Product Agency and the Institutional Review Board to initiate a Phase 2 study of its oral Endoxifen for the reduction of mammographic breast density (MBD).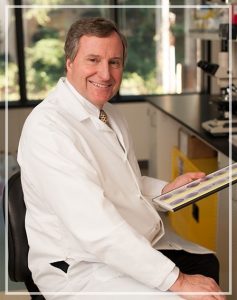 Seattle-based Atossa Therapeutics is a clinical-stage biopharmaceutical company developing novel therapeutics and delivery methods for breast cancer and other breast conditions. Atossa is led by Steven Quay, M.D., Ph.D. (pictured above), Atossa's Chairman, and CEO. He received an M.D. and Ph.D. from The University of Michigan was a postdoctoral fellow at MIT with Nobel Laureate H. Gobind Khorana, a resident at the Harvard-MGH Hospital, and was on the faculty of Stanford University School of Medicine. His contributions to medicine have been cited over 9,600 times. He has founded six startups, invented seven FDA-approved pharmaceuticals, and holds 87 US patents. It is estimated that over 80 million people have benefited from the medicines he invented. His current passion is the prevention of the two million yearly breast cancer cases worldwide. 
Atossa's Chairman, and CEO, Steven Quay stated the following, 
"This is an important milestone in the development of our oral Endoxifen product. Regulatory approval is necessary to commence the Phase 2 randomized, double-blinded, placebo-controlled study in Stockholm, which will include approximately 1,000 pre-menopausal women with MBD who will receive daily doses of Endoxifen or placebo for six months. We expect the Medical Product Authority will respond within 30 days and that the IRB approval will follow in the second quarter."
Atossa has established both primary and secondary sources of manufacturing for the clinical supply of its oral Endoxifen capsules. With over three years of experience manufacturing and supplying the oral Endoxifen capsules for its completed clinical studies, Atossa believes adequate drug supply will be available to support this Phase 2 study. The primary objective of the study is to determine if breast density changes compared to placebo and among different doses, with secondary endpoints to assess and characterize safety and tolerability. South General Hospital in Stockholm will be conducting this study at multiple sites, after having recently completed the company's Phase 2 study of its topical form of Endoxifen. The study is being led by principal investigator Per Hall, M.D., Ph.D., Head of the Department of Medical Epidemiology and Biostatistics at Karolinska Institutet.
Please visit the Atossa Therapeutics (ATOS) page at Vista Partners to keep up with their progress and to learn more daily about their work and developments in diagnosing and treating breast cancer.
In other biotech-related news, Gilead Sciences, Inc. (Nasdaq: GILD) and Forty-Seven, Inc. (Nasdaq: FTSV) announced today that the companies have entered into a definitive agreement pursuant to which Gilead will acquire Forty Seven for $95.50 per share in cash. The transaction, which values Forty-Seven at approximately $4.9 billion, was unanimously approved by both the Gilead and Forty Seven Boards of Directors and is anticipated to close during the second quarter of 2020, subject to regulatory approvals and other customary closing conditions. Shares of FTSV are currently trading at $93.73/share up +61.59%!
Through the addition of Forty Seven's investigational lead product candidate, magrolimab, the acquisition is believed that it will strengthen Gilead's immuno-oncology research and development portfolio. Magrolimab is a monoclonal antibody in clinical development for the treatment of several cancers for which new, transformative medicines are urgently needed, including myelodysplastic syndrome (MDS), acute myeloid leukemia (AML) and diffuse large B-cell lymphoma (DLBCL). The investigational therapy targets CD47, a "do not eat me" signal that allows cancer cells to avoid destruction thereby permitting the patient's own innate immune system to engulf and eradicate those cancer cells. Forty Seven presented promising results of a Phase 1b study of magrolimab in patients with MDS and AML at the American Society of Hematology meeting in December 2019. Magrolimab has the potential to be a first-in-class therapy.
Stay Informed! Stay Competitive! Please join us at Vista Partners and receive our FREE email updates throughout the week and view our exclusive content and research.
Post View Count : 15182