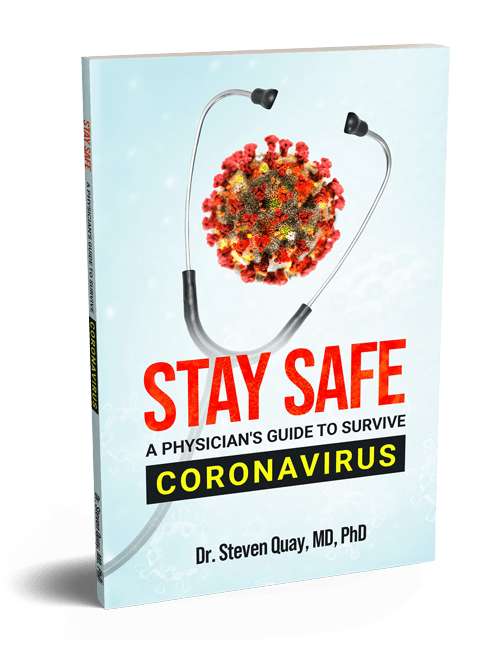 Unfortunately, there are currently over 31.5 million confirmed coronavirus cases worldwide and over 967,000 related deaths!
Recently, the director of the Centers for Disease Control and Prevention told lawmakers that he doesn't expect a potential COVID-19 vaccine to be available for most Americans until the middle of next year, even as the government unveiled plans to begin distributing a vaccine as soon as possible.
Clearly, we have not solved this growing problem yet, so we had better do our best to practically understand the coronavirus and to live with it for the foreseeable future!
---
A Step Towards Understanding & Living With The Coronavirus Pandemic
One great step towards increasing the world's understanding of the coronavirus pandemic has been taken by world renowned physician-scientist Dr. Steven Quay's, MD, PhD, CEO of Atossa Therapeutics, Inc. (NASDAQ: ATOS) with his book "Stay Safe: A Physician's Guide to Survive Coronavirus." His book contains dozens of lifesaving tips on getting back to school, the fall season, wearing masks, getting back to work, and other valuable tips to help protect you and your family against the coronavirus and to get on with your lives.
Recently, "Stay Safe: A Physician's Guide to Survive Coronavirus," achieved a number one ranking on twelve Amazon New Release Bestseller list categories: Epidemiology, Contagious Diseases, Public Health, Immunology, Science & Math, Communicable Diseases, Viral Diseases, Basic Medical Science, Diseases and Physical Ailments, Respiratory Diseases, Immune Systems, & Microbiology Science.  
I ordered it last weekend off of Amazon and read it quickly from cover to cover. I subsequently gifted the book to nearly 20 people to date and will seek to do more! I have found that Dr. Quay's book is an extremely helpful resource as it has given me a practical and calming view with regard to the coronavirus pandemic from the point of view of a physician and a scientist who is brilliant, relatable and humorous throughout.
---
The Challenge
I challenge all to buy Dr. Quay's book and then to consider recommending or gifting it to at least five people that you care about to grow both our nation's and our world's understanding and to fight the raging coronavirus pandemic. It is currently available on Amazon for $4.99.
---
About Dr. Quay
Dr. Steven Quay (pictured below) is the CEO of Atossa Therapeutics Inc. (Nasdaq: ATOS). He received his M.D. and Ph.D. from The University of Michigan, was a postdoctoral fellow in the Chemistry Department at MIT with Nobel Laureate H. Gobind Khorana, a resident at the Harvard-MGH Hospital, and spent almost a decade on the faculty of Stanford University School of Medicine. A TEDx talk he delivered on breast cancer prevention has been viewed over 200,000 times. His 300+ contributions to medicine have been cited over 9,900 times, placing him in the top 1% of scientists worldwide. He holds 87 US patents and has invented seven FDA-approved pharmaceuticals which have helped over 80 million people. For more information and ongoing blogs about the coronavirus pandemic, breast cancer, etc. please consider visiting his website: www.DrQuay.com.
---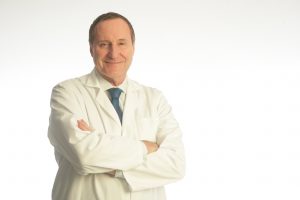 ---
"There are so many questions surrounding this pandemic. Everything from how easy is it to get the Coronavirus or what can you do to improve your chances of staying out of a hospital, that I felt a need for a straight-forward book that shares the science-backed basic and clinical research I have compiled since this began in January. Even though clinical trials on vaccines and therapeutics are underway, it is too early to predict whether they will be successful. This book is designed to help right now, regardless of what the future brings."
 – Dr. Quay, CEO of
Seattle
-based Atossa Therapeutics, Inc. (NASDAQ: ATOS).
---
"Stay Safe: A Physician's Guide to Survive Coronavirus," is available for purchase for $4.99 on Amazon Today! Learn More or Order Now. 
---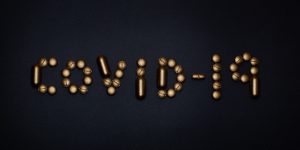 ---
Latest Developments Toward Finding a Treatment for the Coronavirus 
Dr. Quay's Atossa Therapeutics, Inc. (Nasdaq: ATOS), a clinical-stage biopharmaceutical company seeking to discover and develop innovative medicines in areas of significant unmet medical need with a current focus on breast cancer and COVID-19, recently announced a positive interim safety assessment from the second cohort of healthy participants in the Phase 1 clinical study using Atossa's proprietary drug candidate AT-301 administered by nasal spray. This second group of eight participants received a single escalated dose of either AT-301A (placebo) or AT-301B (active drug). The blinded, positive assessment by the safety committee allows the study to now enroll the next cohort, which will be the third of a total of four cohorts and the first of two multi-dose, placebo controlled cohorts. The ongoing Phase 1 study is a double-blinded, randomized, and placebo-controlled safety study of AT-301 nasal spray in 32 healthy adult subjects divided into two study groups. Part A consists of two single-dose cohorts receiving either active therapy, AT-301B, or the placebo comparator AT-301A at two different doses. Part B is a multiple dose arm with cohorts receiving either AT-301A or AT-301B for 14 days at two different doses. The primary objective of the study is to evaluate the safety and tolerability of single and multiple doses of AT-301 administered via nasal instillation to healthy volunteers. Secondary objectives are to assess the incidence and severity of local irritation and bronchospasm following administration of AT-301 via nasal instillation. The study is being conducted in Australia. 
"This second favorable safety review marks an important milestone in this study as half the participants have now been dosed and initial safety reviews have been successfully completed," commented Steven Quay, M.D., Ph.D., Atossa's President and CEO. "Based on rapid enrollment in the first half of the study, we expect to complete enrollment in the remainder of the study very quickly. Recent data from the CDC suggests that more than 90% of people testing positive for COVID-19 do not require hospitalization. With this in mind, we are developing our AT-301 nasal spray for home-use because there are no currently FDA-approved treatments to help these patients with early disease to recover faster. We anticipate that our AT-301 nasal spray will complement any traditional COVID-19 vaccine that may be developed. A traditional COVID-19 vaccine may be effective in in as few as half of the people taking it and recent surveys indicate that as many as one-third of Americans may choose not to take any COVID-19 vaccine once one becomes available. In addition, studies of re-infection with the coronavirus suggest that the durability of immunity, whether from an actual infection or a vaccine, may not be ideal. As a result, therapies such as our nasal spray, similar to therapies working in tandem with vaccines for seasonal flu, may form an important part of a broader response to the coronavirus pandemic." -Steven Quay, M.D., Ph.D., Atossa's President and CEO
Significant advances have been made in the field of COVID-19 diagnostic testing. These tests are now much more widely available and they can render results much more quickly. Atossa plans to identify potential partners who are developing these tests so that AT-301 nasal spray may be co-developed and commercialized with the goal of making the AT-301 therapy available at the time a person tests positive for the coronavirus. Atossa also plans to develop its nasal spray to potentially help prevent COVID-19 infection, particularly for people in high risk communities and those working in higher-risk areas, including healthcare workers, emergency responders and teachers.
---

---
Learn more about Atossa Therapeutics, Inc. (NASDAQ: ATOS)
To learn more please visit Atossa's corporate website at www.atossathereapeutics.com and the Vista Partners Atossa Therapeutics Company Dedicated Page.
Post View Count : 70561