Steven Quay received an M.D. and Ph.D. from The University of Michigan, was a postdoctoral fellow at MIT with Nobel Laureate H. Gobind Khorana, a resident at the Harvard-MGH Hospital, and was on the faculty of Stanford University School of Medicine. His contributions to medicine have been cited over 9,600 times. He has founded six startups, invented seven FDA-approved pharmaceuticals, and holds 87 US patents. It is estimated that over 80 million people have benefited from the medicines he invented. His current passion is the prevention of the two million yearly breast cancer cases worldwide.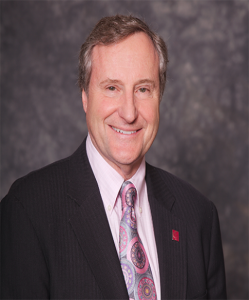 Recently, Steven Quay MD, Ph.D., who currently serves as the Founder, Chairman and CEO of Atossa Genetics Inc. (NASDAQ: ATOS), a clinical-stage biopharmaceutical company developing novel therapeutics and delivery methods for breast cancer and other breast conditions, was interviewed by Vista Partners LLC's Managing Partner John F. Heerdink, Jr. regarding gynecomastia, the enlargement or swelling of breast tissue in males, a condition that is most commonly caused by male estrogen levels that are too high or are out of balance with testosterone levels.
Gynecomastia grabbed headlines recently when Janssen, a unit of Johnson & Johnson (JNJ), was reported to have been hit with $8 billion of punitive damages over its alleged mishandling an anti-psychotic drug blamed for causing adolescent boys to grow female-sized or enlarged breasts.
The interview proceeded as follows:
1. Recently, according to Bloomberg, Janssen, a unit of Johnson & Johnson (JNJ), was hit with $8 billion of punitive damages over its alleged mishandling an anti-psychotic drug blamed for causing adolescent boys to grow female-sized or enlarged breasts, a condition called gynecomastia. Do you have any comments or reactions that you could share with us?
Thanks for asking John. This is a huge financial award for a single patient.
But beyond that, my comments will be limited to those of a physician and scientist. Gynecomastia is a condition that can produce severe psychological trauma, especially in young boys and teens for whom this drug is given. Even suicides have been linked to this condition.
2. Can you give us a better understanding of gynecomastia and how many men are affected by this affliction?
"The simple answer is that the condition is the result of the battle going on every day in our bodies. The battle between the female hormones, primarily estrogen, and the male hormone testosterone. In most men, the testosterone is always winning but sometimes, due to medical conditions, or in this case a drug administration, the estrogen takes over. When that happens the estrogen causes breast development in men.
There are 10 million men with a diagnosis of gynecomastia, so it is a major condition. Some say 40 to 50% of men will have some form of gynecomastia during their life."
3. How are men treated for gynecomastia currently today and is there a cure?
"Current treatment is pretty 'old school.' Surgery can be done to remove the enlarged breast tissue or you can X-ray the breast and kill the tissue. This can damage the heart and lungs due to radiation scatter into these organs. Despite the psychological trauma of this condition, many insurance companies will not pay for these expensive procedures.
This is not right but it is where we are."
4. As CEO of Atossa Genetics (ATOS) you are focused on developing novel therapeutics and delivery methods for breast cancer and other breast conditions, what are you currently working on in relation to the treatment of gynecomastia?
"The Atossa developing an approach that is intended to be simpler and gentler: using our proprietary endoxifen to block the estrogen, we hope to restore the balancing of hormones in the men, putting their natural testosterone back in control. We are excited to be developing future options to the young boys and men for whom this is appropriate."
Please visit the Atossa Genetics (ATOS) page at Vista Partners to keep up with their progress and to learn more daily about their work and developments in diagnosing and treating breast cancer.
Recently, Atossa reported preliminary results from its Phase 1 study of its proprietary modified-release tablet form of oral Endoxifen. The Phase 1 study was conducted in Australia. The objectives of the study were to assess safety and tolerability and to ascertain the pharmacokinetics of the tablet. The study was randomized, double-blinded and placebo-controlled with both single and multiple-doses (daily for 14-days) in two groups with a total of 24 healthy female volunteers. Atossa's oral Endoxifen capsule served as the comparator.
"This was an important study because the results support advancing our modified-release tablet into a Phase 2 study to reduce mammographic breast density (MBD), which we plan to begin in the fourth quarter by contracting with a CRO," commented Dr. Steven C. Quay, Ph.D., M.D., CEO and President of Atossa. "We will continue our analysis of the Phase 1 data and plan to announce additional results in the coming weeks. We also recently completed a successful Phase 2 study of our topical form of Endoxifen in which a significant reduction of MBD was achieved among study participants who applied the stronger dose of topical Endoxifen. Our success with the topical Phase 2 study and now the successful Phase 1 study of the tablet, supports our plan to advance our proprietary tablet into a Phase 2 study to reduce MBD."
Based on the number of women with MBD and the number of patients who have survived breast cancer but are not fully benefiting from taking tamoxifen, Atossa estimates that the potential markets for its proprietary formulations of Endoxifen could potentially exceed $1 billion in annual sales.
Vista Partners LLC ("Vista") is a California Registered Investment Advisor based in San Francisco. Vista delivers timely and relevant insights via the website: www.vistapglobal.com with daily stories, weekly market updates, monthly macroeconomic newsletters, podcasts, & Vista's proprietary equity and market research to help you stay informed and stay competitive. Vista's mission is to invest partner capital while arming investors with a comprehensive global financial perspective across all market sectors. Vista also seeks to provide select issuers with actionable advice regarding fundamental development, corporate governance, and capital market directives.
Stay Informed! Stay Competitive! Join us at Vista Partners! It's FREE to receive email updates.
Post View Count : 11606